Reckless Driving Defense Lawyer: VTL 1212

Reckless Driving
Reckless driving VTL 1212 is an unclassified misdemeanor in New York State. A misdemeanor is a crime whereby you can be sentenced to jail and have a permanent criminal record.
A conviction to Reckless Driving will result in a five point penalty against your driver's license. In certain jurisdictions, some judges have the discretion to suspend your driver's license based upon a conviction of certain traffic summons.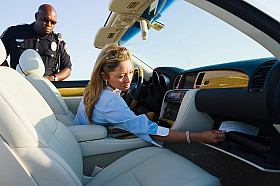 Reckless Driving This is a serious charge and you should have the experienced criminal and traffic ticket defense attorneys of Villanueva & Sanchala, PLLC representing you. Call us now at 800-893-9645 to set up a confidential consultation.


What is Reckless Driving?

VTL § 1212. Reckless driving. Reckless driving shall mean driving or using any motor vehicle, motorcycle or any other vehicle propelled by any power other than muscular power or any appliance or accessory thereof in a manner which unreasonably interferes with the free and proper use of the public highway, or unreasonably endangers users of the public highway. Reckless driving is prohibited. Every person violating this provision shall be guilty of a misdemeanor.

Can You Give Me an Example of Reckless Driving?

Reckless Driving in New York is a broad statute. Some driver's have been convicted of reckless driving by speeding at an excessive rate, weaving back forth, and crossing the double yellow line.

Review

A conviction to VTL 1212 also known as reckless driving is a misdemeanor with serious consequences including but not limited to: a jail sentence, a fine, a surcharge, a NYS driver's assessment penalty, a license suspension, and a jail sentence.

Joseph P. Villanueva and his team of lawyers have aggressively defended clients charged with reckless driving throughout New York State. The firm has built a reputation of fighting for every client charged with reckless driving and has worked tirelessly to eliminate or minimize their client's exposure to penalties associated with this charge and other traffic tickets.

Back to main ticket page
Testimonials
Meet our main defense attorney