Lawyer's Traffic Ticket Guide for Cicero Court

How to Fight a Speeding Ticket in CiceroHOW DO I FIGHT A TRAFFIC TICKET IN CICERO COURT?
Receiving a traffic ticket in Cicero Town, there are many decisions a driver may have to look into. One of the most important decisions to consider is whether or not it is beneficial for the driver to hire an attorney. It may save the driver money to hire one of our Cicero speeding ticket lawyers rather than pleading guilty outright.
In general, a speeding conviction of 86 mph in a speeding zone of 65 mph can carry a fine up to $393.00 which is payable to the court, there also is a $300.00 minimum penalty fee to the Department of Motor Vehicles, and possible insurance cost increases. In addition, other costs that could arise is time wasted on traveling to court and the time that is spent in court. Not to mention, a license suspension if too many points have been accumulated.
WHAT SHOULD I EXPECT IN COURT?
Courts are a very secure place, so everyone is subject to a security check. Please do not bring weapons of any kind into the court. It is also recommended that you leave your cell phones and other electronics at home or turned off. The court is a place of respect, so always remember to act cordial. You should bring any court notices that you have. And remember to arrive on time; it is better to arrive before time rather than later. If you arrive late you could miss important instructions regarding your case if you are late.
ABOUT CICERO TOWN COURT
The Town Hall offices are open every Monday through Friday except for holidays from 8:00 a.m. to 4:00 p.m.; although payments may be paid at the window on Monday – Thursday only. Justice Court is in session every Tuesday and Thursday, beginning at 5:00 p.m.
Court appearances are held on Tuesdays for those whose last name begins with the letter A-M, and on Thursdays for those whose last name begins with the letter N-Z. All traffic ticket appearances are scheduled for 5:00 p.m. Payment of fines may be made by cash, money orders, certified checks or Visa or MasterCard.
WHAT WOULD MY FINES BE?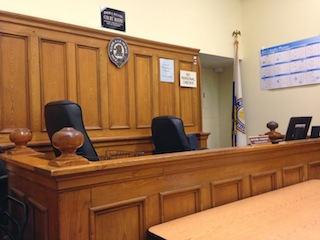 Typically tickets that are issued by the New York State Troopers follow a specific format in which the fine is not listed. However other police agencies may use different formats in which the fine may or may not be listed.
Convictions of speeding tickets can result in points that can range from 3 to 11 points, including fines. The fines are set by the judge's discretion within the parameters provided by the law. Judges can also use judicial discretion to suspend your license, not withstanding the number of points you have received. For example, if you are driving above 90 miles per hour you may get suspended. The following chart lays out the your speed conviction with respect to the amount of fines. Fines are subject to change without notice.
Offense
Fines
First-time speeding offense
$45 to $600
One or more speeding tickets
(within eighteen months)
Up to $1,575
Traffic Infraction
$100-$300
Disobey a Traffic Signal
(red light)
$225-$675
Misdemeanor Convictions
(no other penalty provided)
$200-$1,225
Uninspected Vehicles
$25-$200
Unregistered Vehicle or Trailer
$25-$200
Equipment Violations of Vehicle or Trailer
$0-$100
Surcharges
$ varies based on the charge and location
ABOUT OUR FIRM
Our firm is lead by a former New York City prosecutor, with 30 years of legal experience. Having a former prosecutor is a huge advantage because we can help you view your case from both the defense and prosecutor's perspectives. Our attorneys have consistently helped many clients save money on insurance increases, fine increase, and helped reduced points. Call our highly skilled attorneys and see how we can help you. Give us a call today at 800-893-9645.
For more information, visit the following links: