Traffic Ticket Defense Lawyers of New York

At Joseph P. Villanueva, Attorneys At Law we understand the importance of aggressively fighting your ticket. We understand that one ticket can make the difference between keeping your license and losing your livelihood. Call us now at 800-893-9645 and have our Former Prosecutor Fight Your Case.

Ticket Lawyers
Our lawyers represent individuals, trucking companies, and commercial drivers who have received traffic tickets, speeding tickets, and other moving violations throughout Westchester County , Rockland County , Orange County , New York City and Long Island. Call us now at 800-893-9645 for a consultation.
We encourage our prospective clients to plead not guilty and hire our Firm to attend court on their behalf to seek a dismissal or negotiate a plea bargain. Our Firm has successfully negotiated thousands of plea bargains to reduce the traffic violation, amount of fines, and number of points on our clients' records.
Before You Plead Guilty, You Should Know:
Pleading guilty to a traffic ticket can have many unintended consequences. Some of these unintended consequences can result in:
losing your privilege to drive because you are assessed too many points,
losing your job because you are dependent on driving for your livelihood,
paying hundreds of dollars in fines and surcharges,
paying hundreds of dollars in insurance increases, and
incarceration.
These are only a few potential consequences that you could be facing if you simply plead guilty without consulting Joseph P. Villanueva, Attorneys At Law.
About Our Firm : Our team of lawyers at Joseph P. Villanueva, Attorneys At Law has over twenty years of legal experience and has helped hundreds of motorists protect their driver's license. The firm's ticket practice is lead by former prosecutor, Joseph P. Villanueva . The firm is strategically positioned at several key locations around New York and handles ticket matter throughout the state. We have successfully resolved matters all the way from Monroe County to South Hampton in Long Island. We have extensive experience handling ticket matters and have gained a superb reputation traffic ticket defense lawyers.
Our firm offers experienced and effective counsel on the following issues:
Speeding Tickets
Trucking Violations
Suspended License
DWI
Representing Canadian Drivers

New York City Traffic Tickets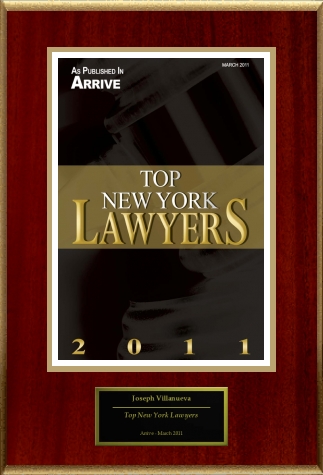 Our Firm represents clients for traffic tickets received in any of the New York City boroughs within the Traffic Violations Bureau.
Our Firm also represents clients in New York City Criminal Court and handles traffic misdemeanor tickets for offenses such as Reckless Driving, Aggravated Unlicensed Operation and Driving While Intoxicated.
Our Firm represents clients in entering their plea properly to avoid an admission of guilt or failure to answer fines and suspension. Tickets must be returned with a plea within fifteen (15) days to avoid additional fines and suspension of the driver's license. Failure to answer a traffic ticket can result in a monetary bond being set for each ticket entering a late not guilty plea, which is only returned if found not guilty or the charges are dropped.
Our Firm has experience with the New York City Traffic Violations Bureau system. No plea bargaining is available for New York City Traffic Tickets, so not guilty pleas must go to trial. Our Firm represents clients at Traffic Violations Bureau hearings, questioning the police officer who issued the ticket, introducing evidence and ensuring compliance with evidence rules and application of the standard of proof of "clear and convincing evidence." As conviction rates are high in the Traffic Violations Bureau, our firm can also represent clients on the appeal of a guilty verdict.