Lawyer's Traffic Ticket Guide for Baldwinsville Court

How to Fight a Speeding Ticket in Baldwinsville
Did you know a conviction to a speeding ticket at 86/55 mph zone could cost you almost $700.00 in fines payable to the court, $450.00 in penalty fees payable to DMV, as well as hundreds more in insurance increases!
In today's world of increased costs, a conviction can costs you hundreds or even thousands of dollars in insurance increases and court costs. The repercussions can follow you for years to come.
The Village of Baldwinsville was first settled in 1794, and is named after Dr. Jonas Baldwin and his wife, Eliza, who visited once and returned to stay, due to the natural beauty of the area along the Seneca River. The area is served by New York State Routes 370, 48 and 690.
Since the highways cover many open stretches of road, a driver can easily lose track of his/her speed and be faced with a speeding ticket.
Further complicating things are the frequently changing topography with the rolling hills and rapidly changing speed limits. Unless a driver keeps an uber vigilant eye on their speedometer, they could be prone to being tagged with a costly traffic summons.
Court Information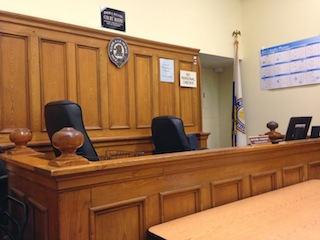 The court clerk's office hours are every Monday through Friday from 8:30 a.m. to 4:00 p.m. except for holidays. Court is held every Wednesday beginning at 6:00 p.m.
Location:
Baldwinsville Village Court
16 West Genese3e Street
Baldwinsville, NY 13027
Pleading Guilty: A plea of guilty to the charge is equivalent to a conviction after trial. A conviction will not only subject the driver to a penalty but in addition the driver's license to drive can be subject to suspension and revocation as prescribed by law.
Trial: Each motorist is entitled to a trial on his or her traffic matters. In general, a traffic trial will occur on the driver's first court appearance. The first court appearance is usually designated as a pre-trial conference.
Ticket Tidbits
The New York State Police issue traffic tickets on a "Uniform Traffic Ticket." This is also referred to as a "UTT." This is the form that tells you what you are charged with and how to enter a plea.
A driver that is convicted of a speeding ticket in New York is facing 3 – 11 point violation. There is no such thing as a 1-point violation in New York. A conviction that results in points starts at a minimum o f 2 points.
For more information about points, take a look at the following chart:
| | |
| --- | --- |
| Speeding | Points |
| 01 to 10 mph over the limit | 3 |
| 11 to 20 | 4 |
| 21 to 30 | 6 |
| 31 to 40 | 8 |
| More than 40 | 11 |
How Many Fines Will I Face?
Fines can be paid in person or through the mail. Most courts do not accept a credit card payment however the trend is picking up in Town Courts around the State.
Fines that are imposed by a Judge are set by the New York State Legislature and codified within the New York Vehicle and Traffic Law. There are limits to the amount that driver can be fined.
Our lawyers fight to reach a favorable outcome for our clients. Below is a list of fines associated with some of the most frequently issued tickets in NY. Fines are subject to change without notice.
Offense

Fines

First-time speeding offense

$45 to $600

One or more speeding tickets

(within eighteen months)

Up to $1,575

Traffic Infraction

$100-$300

Disobey a Traffic Signal

(red light)

$225-$675

Misdemeanor Convictions

(no other penalty provided)

$200-$1,225

Uninspected Vehicles

$25-$200

Unregistered Vehicle or Trailer

$25-$200

Equipment Violations of Vehicle or Trailer

$0-$100

Surcharges

$ varies based on the charge and location
How We Can Help You
It seems pretty basic but it makes good financial sense to fight a speed ticket. We save our client's money. A conviction to a speeding ticket can cost a driver hundreds in fines, penalties, and insurance increases.
We have over 30 years of legal experience and we are lead by for a former NYC prosecutor.
Call us today to see how we can help you fight your ticket. We can be reached at 800-893-9645
If you're looking for more information, please visit the following links:
Traffic Ticket FAQs
Tips on Avoiding a Speeding Ticket
Top Reasons to Hire an Attorney