Lawyer's Traffic Ticket Guide for LaFayette Town Court

How to Fight a Speeding Ticket in LaFayette Town
Have you been issued a speeding ticket that is returnable to LaFayette Town Court? Are you looking to fight this ticket? If so, call our Onondaga County speeding ticket defense attorneys now at 800-893-9645.
Lafayette Town Information
The Town of LaFayette is named after a national hero, recognized in both France and the United States – the Marquis de LaFayette. LaFayette served as both a general in the American Revolutionary War and a leader of the Garde nationale in the French Revolution.
The Town of LaFayette is the geographic center of the State of New York, and is served by Interstate 81 and US Route 11, which both intersect with US Route 20 by the hamlet of LaFayette.
With these highways covering many open stretches of road, motorists can easily lose sight of the speed limit and find that they are faced with a speeding ticket.
If you want to fight your ticket, you will probably waste a day travelling to court and waiting in court. Call our LaFayette attorneys today to see how we can save you time, money and points. 800-893-9645.
Court Tips and Tidbits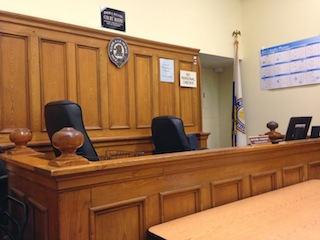 Location: LaFayette Town Hall & Justice Court
P O Box 135
2577 US Route 11
LaFayette, NY 13084
Court Clerk: The role of the Court Clerk is to assist the Judges in carrying out their duties. They may assist the Judges in court as well as out of court. Many clerks send letters to litigants, collect fine monies, and help answer day-to-day questions before the court.
Things To Bring: You should bring your court notice advising you to appear in court. If you are displaced, showing the court personnel your letter may help in directing you where to go and what to do.
Burden of Proof: Unlike traffic matters heard in the Traffic Violations Bureau of NYC and other parts of the State, tickets in Town and Village Courts must meet the standard of proof beyond a reasonable doubt. Many legal scholars have debated exactly what is meant by proof beyond a reasonable doubt. However, everyone agrees that it is the highest standard of proof in the US judicial system.
Prosecutor: There are many different police agencies that have the authority to issue traffic tickets returnable to Dickinson Town Court. These agencies can include the NYS Police, County Police/Sheriff, Park Police, and local town police.
FAQs
How will a speeding conviction affect my insurance?
There are many different things insurance companies take into consideration when they determine a driver's insurance rate. For the most part, the algorithm used is proprietary in nature and the average driver will not be privy to this information.
Some things considered in an insurance policy can include but is not limited to a driver's age, their accident history, the type of car driven, and any convictions to moving violations.
How many points are allowed until a license is suspended?
There are many reasons why a driver may have their privilege to drive suspended. With respect to points, a driver will suspended upon receiving 11 or more points within an 18 month period.
Is the date on the front of my ticket my court date?
Ultimately, the date on the front of your ticket may be your court date but for the most part, it is your respond by date.
If a plea of guilty is entered by mail, does the fine need to be paid at the same time?
In general, when a driver mails the court their guilty plea, the court will send back a letter with the fine amount with a date certain to pay the fine. If the driver does not get a response in 5 business days, the driver should call the court to follow up on the status of their ticket.
About Our Firm:
We have represented a myriad of clients ranging from from stock brokers, television celebrities, CDL truck drivers, and concerned parents. Over the years, we have excelled at getting tickets either dismissed or reduced and earned a superb reputation among our peers. We use our experience to your advantage and work steadfastly to your best possible outcome.
Call us today to see how we can help you save. 800-893-9645.
For more information, visit the following links:
Traffic Ticket FAQs
Tips on Avoiding a Speeding Ticket
Top Reasons to Hire an Attorney