Lawyer's Traffic Ticket Guide for Bloomingburg Village Court

How to Fight a Speeding Ticket in Bloomingburg Village
The Village of Bloomingburg has a population of 420 according to the U.S. Census (2010), and is situated in the Town of Mamakating in Sullivan County. The village is marked on the eastern edge by the Shawangunk Kill (Shawangunk River in the Dutch language), and the border of Orange County. Sullivan County Route 171 becomes Main Street in Bloomingburg. The area is also served by New York State Route 17 and U.S. Route 209. Interstate-84 passes by east of Bloomingburg.
With such highways passing through the village of Bloomingburg, many motorists often lose sight of the speed limit. Further complicating things is the rolling topography of the roads and the rapidly changing speed limits. With such factors a driver can find themselves facing a hefty speeding ticket.
If you have received a speeding ticket which is returnable to Bloomingburg Village Court, call our Sullivan County speeding ticket defense attorneys today. We have consistently helped clients save exposure to fines, points and insurance increases.
Court Facts and Tidbits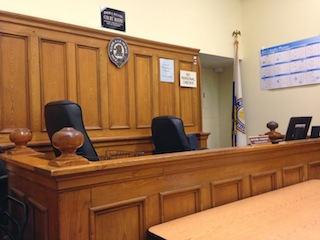 Court Location:
Bloomingburg Village Court
2948 State Route 209
Wurtsboro, NY 12790
The Bloomingburg Village Court is located in a brown building, off of the same driveway that provides entrance to the New York State Police Department facility.
Come Prepared: It is always a good policy to come to court prepared. We advise that all litigants bring in their court notice as well as their driving record. If you have a clean driving record it could be persuasive and help mitigate the situation.
Also, it is advised that you bring enough money to pay court fees and fines if your case is resolved.
Ticket Information
Pleading Not Guilty: If a driver enters a plea of not guilty, the court will send them a letter advising them to come to court. At this court appearance, the driver will have an opportunity to present their strengths an weaknesses of their case. Generally speaking, the first appearance is not the trial date so you may not have to come in prepared to argue the full case.
If you would like one our experienced lawyers to help fight your ticket, give us a call at 800-893-9645.
Tip: Drivers should always respond to a traffic summons to prevent suspension of their privilege to drive. Once the Department of Motor Vehicles is notified that a license should be suspended, it is very difficult to undo the suspension. To undo a suspension, there are many costs attached to it; such as the payment of a suspension lift fee, the payment of a bond, and an appearance in court.
It is a crime to drive with a suspended license. If a driver is pulled over, the police can place the driver under arrest and impound the car.
Who Issues Tickets: There are many different agencies who have the authority to issue tickets. Such agencies include but are not limited to the State Police, Sheriff's office, County Police, Town or Village Police, and Park Police.
About Our Firm
We provide our clients with the highest quality legal service as well as a legal advantage. Our team of highly skilled lawyers is led by former New York City prosecutor, Joseph Villanueva. Having a former prosecutor on your side helps you analyze your case from the prosecutor's side as well as from the defense side.
Our firm has saved countless clients save exposure to fines, points and insurance increases. If you need help making heads or tails of your traffic matter call us today at 800-893-9645 to see how we can help you too.
For further information, please check out the following links:
Traffic Ticket FAQs
Tips on Avoiding a Speeding Ticket
Top Reasons to Hire an Attorney