Lawyer's Traffic Ticket Guide for Forestburgh Town Court

How to Fight a Speeding Ticket in Forestburgh Town
In today's world of increased costs, a conviction of a speeding ticket can costs you hundreds or even thousands of dollars in insurance increases and court costs. The repercussions can follow you for years to come.
The Town of Forestburgh is located near High Falls on the Neversink River in Sullivan County and the earliest settlers were of Celtic, German and Swedish ancestry, who arrived in 1780. The Forestburgh Town Hall, which was rebuilt in 1929 after being destroyed by a fire in 1928, was listed in the National Register of Historic Places in 2011. South of town lies Orange County; the area is served by New York State Route 42.
New York State Route 42 covers many open stretches of road where a driver can easily lose sight of the speed limit and find themselves facing a costly speeding ticket.
If you are having trouble making deciphering your speeding ticket, this guide is made to help you gain a general understanding of your traffic matter. If you would like a consultation regarding your issue, call one of our experienced and well reputable Sullivan County speeding ticket lawyers today at 800-893-9645.
Basic Court Tips and Tidbits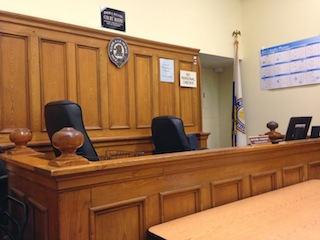 Mailing Address:
Forestburgh Town Hall & Justice Court
PO Box 114
332 King Road
Forestburg, NY 12777
The Justice Court is in session every Monday and Tuesday at 5:00 p.m. in the Town Hall.
Court Tip: Always be sure to arrive prior to the time you are required to. It is better to arrive rather than later; a late arrival could result in your case being called when you are not present. In addition, do not forget to check-in with the court clerk, failure to notify the clerk may result in your case not being called.
Security: The court is a secure place, all litigants are require to walk through a magnetometer upon arrival. It is advised that all electronics be turned off and no food or drinks are permitted into the court.
What to Bring: We advise that litigants bring their court notice, and their driving record. If the driving record is clean, it could be persuasive to resolve the traffic matter.
Also, it is advised that litigants bring enough money to pay court fees and fines if the case is resolved that day.
General Information:
Suspension: A driver must respond to a summons to prevent suspension of their driver's license or their driving privileges. It is a crime to drive with a suspended or revoked license.
If a driver is pulled over and has a suspended license, the officer can impound the car and arrest the driver.
Junior License: If you have a junior license and have been convicted with a speeding violation, you may be required to appear in court regardless of your plea. A driver with a junior license should be very careful.
Ticket: There are many different agencies whoa are authorized to issue a traffic ticket. Some of these agencies include, but are not limited to the Park Police, County Police, State Police, and Town or Village Police.
Why Should I Hire a Lawyer?
There are many benefits in hiring a lawyer to fight your speeding ticket. At Joseph P. Villanueva, Attorneys At Law, we give all of our clients the highest quality legal representation. We have continuously helped clients reduce points on their license as well as help them save money on fines and insurance increases. Call us today and find out how we can help you at 800-893-9645.
For more information, please visit the following links:
Traffic Ticket FAQs
Tips on Avoiding a Speeding Ticket
Top Reasons to Hire an Attorney