Lawyer's Traffic Ticket Guide for Woodridge Village Court

How to Fight a Speeding Ticket in Woodridge Village
The Village of Woodridge has a population of 847 according to the U.S. Census (2010), and covers 1.6 square miles of land, located in the Town of Fallsburg in Sullivan County. The Silver Lake Dam, built during the 1840s, is located near the village and was listed in the National Register of Historic Places in 2000. The village is in an area served by New York State Routes 42 and 52.
Highways such as NYS Routes 42 and 52, serve many open stretches of road. Its usually in such places where a driver loses track of the speed limit and finds themselves with a speeding ticket.
Speeding tickets are no laughing matter. Not only are they annoying, they can also be very costly.
In terms of quantifiable dollars and cents, the average conviction to a 76/55 mph zone is a 6-point violation and will usually face a fine up to about $400.00, a $300.00 fine payable to DMV, and a few hundred dollars in insurance increases.
If you are looking to save money and points, call our Sullivan County speeding ticket attorneys today at 800-893-9645.
Court Information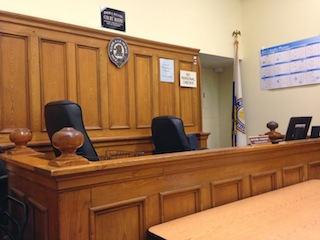 Mailing Address:
Woodridge Village Court
PO Box 655
2 Dairyland Road
Woodridge, NY 12789
Village Court is held each Wednesday at 7:00 p.m. Contact the Village Clerk for more information.
The court receives speeding and traffic tickets from a myriad of police agencies. They have presided over tickets issued by Park Police Officers, Sheriff's Deputies, State Police Officers, and more. A Special Prosecutor prosecutes tickets issued by the State Police. The Special Prosecutor was approved by a Town Board and gives the power to enforce the law
Plea: The majority of cases are resolved via plea bargaining. In lieu of having a trial, it may be possible to resolve a traffic matter with a lesser included charge. Most resolution will involve a fine and a surcharge. The surcharge is additional monies payable at the end of case that are paid to New York State.
Court Clerk: The role of the Court Clerk is to assist the Judges in carrying out their duties. They may assist the Judges in court as well as out of court. Many clerks send letters to litigants, collect fine monies, and help answer day-to-day questions before the court.
Please be sure to notify the court clerk that you are present for your case. Failure to notify the court clerk may result in your case not being called.
FAQs
What happens if I fail to respond to my speeding ticket?
Failing to respond can result in your license being suspended. Driving with a suspended license can be charged as a crime. You can be arrested and subject to incarceration.
There is a court date on the front of my ticket and the back of my ticket says I have 48 hours to respond. Which one do I follow?
Technically, you have 48 hours from the time your ticket is issued to enter a plea of not guilty by mail.
Can't every speeding ticket be dismissed or resolved with zero points?
Every case is unique. Every court is unique. It is difficult to make a blanket statement with regard the ultimate resolution of a legal matter.
Benefits of Hiring a Lawyer
Fighting a moving violation with our law firm can have many advantages. In particular, there is a tangible cost savings in hiring our firm. If you are charged with driving 86/65, you are facing a 6 point speeding ticket. A conviction to this charge can result in a fine close to $400.00, another penalty from the Department of Motor Vehicles staring at $300.00, and hundreds maybe thousands of dollars in insurance increases.
Our lawyers have consistently reduced our client's points, fines, and exposure to insurance increases. Furthermore, as attorneys licensed to practice law in the State of New York, our lawyers can appear in court on routine traffic matters without our clients having to appear in court.
Call us now for your consultation at 800-893-9645.
For more information, please visit the following links:
Traffic Ticket FAQs
Tips on Avoiding a Speeding Ticket
Top Reasons to Hire an Attorney