Lawyer's Traffic Ticket Guide for Colonie Town Court

How to Fight a Speeding Ticket in Colonie Town
Have you been issued a speeding ticket in Colonie, New York? Are you having trouble making heads or tails of your situation? This guide was created to help you get a little familiar with the world of speeding tickets.
About the Town
The Town of Colonie has a population of 81,591 according to the 2010 U.S. Census and contains numerous hamlets within its boundaries: Boght Corners, Crescent Station, Karner, Dunsbach Ferry, Latham, Lisha Kill, Loudonville, Maplewood, Newtonville, Stanford Heights, Verdoy and West Albany. Colonie is situated along New York State Route 5, and Interstate-87 passes through the eastern section of town.
If you are looking to fight your speeding ticket, and are unable to go to court; give our attorneys a call today at 800-893-9645. We will represent you in court and help you get a favorable resolution.
Court Facts and Tips
Address:
Colonie Town Court
312 Wolf Road
Latham, NY 12110-4814
The court clerk office hours are every Monday through Friday from 8:30 a.m. to 4:30 p.m., except for holidays. Traffic court is held every Monday at 6:00 p.m. and every Tuesday at 8:30 a.m. Citations and fines may be paid in person using cash, certified check, and money order, VISA or MasterCard.
Check- in: Upon arriving to court, it is very important that you notify the court clerk that you are present for your court date. Failure to do so may result in your case not being called.
Tip: Even though there is no official dress code enforced, we highly recommend you dress in a formal and respectable manner. Many judges frown upon those individuals who come to court in shorts, open toe sandals, or other such items.
Trial: Each motorist is entitled to a trial on his or her traffic matters. In general, a traffic trial will occur on the driver's first court appearance. The first court appearance is usually designated as a pre-trial conference.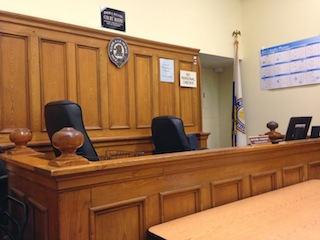 FAQs
How many points will I get?
In New York State, a speeding ticket ranges from 3-11 points. For more information, take a look at the following chart:
| | |
| --- | --- |
| Speeding | Points |
| 01 to 10 mph over the limit | 3 |
| 11 to 20 | 4 |
| 21 to 30 | 6 |
| 31 to 40 | 8 |
| More than 40 | 11 |
How many points are allowed until a license is suspended?
There are many reasons why a driver may have their privilege to drive suspended. With respect to points, a driver will suspended upon receiving 11 or more points within an 18 month period.
I received a ticket from a State Trooper and I was given a trial date to appear in court. Will I have an opportunity to meet to plea bargain this case?
It all depends. In general, according to VTL 1806, a driver is supposed to have a mandatory pre-trial conference. However, depending on the stage your case is in, you may have waived the pre-trial conference.
About Our Firm
Fighting a moving violation with our law firm can have many advantages. In particular, there is a tangible cost savings in hiring our firm. Our lawyers have consistently reduced our client's points, fines, and exposure to insurance increases.
Furthermore, as attorneys licensed to practice law in the State of New York, our lawyers can appear in court on routine traffic matters without our clients having to appear in court.
Call now for your consultation at 800-893-9645.
For further information, please take a look at the following links:
Traffic Ticket FAQs
Tips on Avoiding a Speeding Ticket
Top Reasons to Hire an Attorney
Email Us
Court Location