Lawyer's Traffic Ticket Guide for Denning Town Court

How to Fight a Speeding Ticket in Denning Town
The Town of Denning is situated in the Catskill State Park in western Ulster County. The area is heavily wooded and a lone fire tower, built in 1920, is the only landmark of significance in Denning; the Red Hill Fire Observation Station was added to the National Register of Historic Places in 2001.
The area is served by Ulster County Routes 42, 46 and 47; these highways have many open roads where a driver can easily lose sight of the speed limits. Further complicating things is the changing topography where a driver has to keep track of the speedometer as well. With such factors , a driver can easily find themselves facing a traffic summons.
If you have been issued a speeding ticket that is returnable to Denning Town Court, call our Ulster County speeding ticket defense lawyers today at 800-893-9645.
Court Tips and Tidbits
Mailing Address:
Denning Town Court
P O Box 277
1567 Denning Road
Claryville, NY 12725
The Denning Town Clerk is available every Monday through Thursday from 8:30 a.m. to 3:30 p.m. The Denning Court is open on the 1st and 3rd Tuesday of every month from 9:00 a.m. to 12:00 p.m.
Tip: The court is a place of respect, as such you will be asked to walk through a magnetometer. Please leave all weapons and sharp objects at home; and all electronic devices should be turned off prior to entering the court.
Check-in: It is very important that the court clerk be notified that you are present in court. Failure to notify the court clerk may result in your case not being called.
Things to Bring: You should bring your court notice advising you to appear in court. If you are displaced, showing the court personnel your letter may help in directing you where to go and what to do.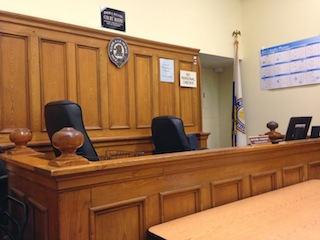 Entering a Plea
Follow the directions provided on your ticket to enter your plea. Technically, you have 48 hours to enter your plea; it can be done via mail or in person.
Pleading Not Guilty: If you enter a plea of not guilty, the court will send a letter in the mail advising you when to come into court. At this court appearance you will be given the opportunity to present the strengths and weaknesses in your case.
Pleading Guilty: Pleading guilty to a speeding ticket can have long-term financial consequences that may cost drivers hundreds in fines, penalties, and insurance increases. A study by a leading insurance company concluded that the national average increase for a speeding conviction is 11% - 15%. In other words, this is the median increase. Some drivers will not receive an increase while others will receive a much larger increase.
Before you plead guilty to your ticket, you should give experienced attorneys a call to learn how we can help you save money, points on your license, and insurance increases.
About Our Firm
Our lawyers excel at getting New York traffic tickets reduced. We have over 30 years of legal experience and have gained a reputation as being superb lawyers.
Our team of traffic lawyers is lead by Joseph P. Villanueva, a former prosecutor. Having a former prosecutor on your side can help in analyzing critical issues in your case. This can make the difference in you keep your license or having your license suspended or revoked. Call us now at 800-893-9645.
For further information, please visit the following links
Traffic Ticket FAQs
Tips on Avoiding a Speeding Ticket
Top Reasons to Hire an Attorney
Email Us