Lawyer's Traffic Ticket Guide for Gardiner Town Court

How to Fight a Speeding Ticket in Gardiner Town Court
Getting a speeding ticket is no laughing matter; and going to court for the first time is a daunting task. Our attorneys at Joseph P. Villanueva, Attorneys At Law have created this guide to help you find ease of mind with the legal arena. If you wish to discuss your case with our attorneys, give us a call at 800-893-9645.
The Gardiner area was first settled by Huguenots; members of the Protestant Reformed Church of France, whose faith was inspired by John Calvin's writings (ca. 1530). The town was named after Addison Gardiner, who served as Lieutenant Governor (1844-1847) for the State of New York.
Court Information and Tips:
Mailing Address:
Gardiner Town Court
P O Box 289
2340 US Route 44/New York State Route 55
Gardiner, NY 12525
The Gardiner Town Court is open every Monday through Friday from 9:30 a.m. to 3:00 p.m. for payment of fines. Court is in session on every Wednesday at 4:00 p.m. and on Thursday at 5:00 p.m. at the Town Hall located on Main Street.
Court Tip: It is always a good policy to come to court prepared. Having the court notice in court is advisable. It will help the court ascertain the most important information about your case quickly.
Sign-In: Upon entering the court please notify the court clerk that you are present for your court date. Failure to notify the court clerk may result in your case not being called.
Security: The court is a secure place, as such you will be asked to walk through a magnetometer for security reasons. Please turn off all electronic devices and leave any sharp objects or weapons at home.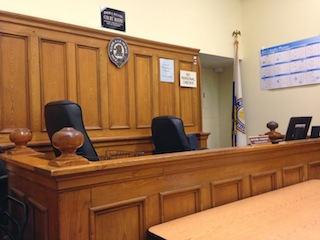 Ticket Tidbits:
New York State Police use a "Uniform Traffic Ticket", also known as a "UTT." The UTT has a lot of important information on it, such as what you are charged with, the officer's name, how to enter your plea, the date of the offense, and other such information.
Entering Your Plea: There are instructions provided on your ticket on how to enter your plea.
Entering a Plea of Not Guilty: Once you have entered your plea of not guilty. The court will mail you a letter with a court date. At this court appearance you will be given the opportunity to present your case's strengths and weaknesses.
Entering a Guilty Plea: Pleading guilty to a speeding ticket can have long-term financial consequences that may cost you hundreds of dollars in fines, penalties and insurance increases.
A plea of guilty to the charge is equivalent to a conviction after trial. A conviction will not only subject the driver to a penalty but in addition the driver's license to drive can be subject to suspension and revocation as prescribed by law.
About Our Firm:
At Joseph P. Villanueva, Attorneys At Law we excel at getting New York traffic tickets dismissed or reduced. We have over 30 years of legal experience and have gained a reputation among our peers as being superb lawyers. Our team of traffic and criminal defense lawyers is lead by Joseph P. Villanueva. He is a former prosecutor. Having a former prosecutor on your side can help in analyzing critical issues in your case.
Call us today for your consultation at 800-893-9645.
For more information, please visit the following links:
Traffic Ticket FAQs
Tips on Avoiding a Speeding Ticket
Top Reasons to Hire an Attorney
Email Us