Lawyer's Traffic Ticket Guide for Green Island Justice Court

How to Fight a Speeding Ticket in Green Island Village
Getting a speeding ticket can be quite overwhelming. Aside from wasting an entire day traveling to and from court; a speeding ticket can cost hundreds of dollars in fines, points on your license, and insurance increases.
If you are having difficulty making heads or tails of your situation, give our attorneys a call today for a consultation. We can be reached at 800-893-9645.
About Green Island
Originally one of only two communities where both the town and the incorporated village have identical boundaries, the Village of Green Island is actually made up of three islands: Green Island, which contains the main areas of both residence and industry, Center Island, which now houses many of the Village residents, and McGill Island. Green Island is surrounded by the Hudson and Mohawk Rivers. The area is served by New York State Route 7, 32 and 787. U.S. Route 4 also passes by between Green Island and the Hudson River.
Court Information
Court Address:
Green Island Justice Court
73 Hudson Avenue
Green Island, NY 12183
The town clerk's office hours are every Monday through Friday from 9:00 a.m. to 4:00 p.m. except for holidays. Vehicle and traffic court cases are heard on the last two Tuesdays of each month at 6:30 p.m. with alternating judges.
Court Clerk: The role of the Court Clerk is to assist the Judges in carrying out their duties. Many clerks send letters to litigants, collect fines, and help answer any day-to-day questions prior to court.
It is important that you notify the court clerk that you are present for your court appearance. The court clerk is usually located in the front of the courtroom. A failure to notifying the court clerk may result in your case not being called.
Security: The court is a secure place, thus you will be asked to walk through a magnetometer upon entering the court. Please leave all food and drinks outside the court, and turn of all electronic devices. Present yourself in a neat and respectful manner.
Plea: The majority of cases are resolved via plea bargaining. In lieu of having a trial, it may be possible to resolve a traffic matter with a lesser included charge. Most resolution will involve a fine and a surcharge. The surcharge is additional monies payable at the end of case that are paid to New York State.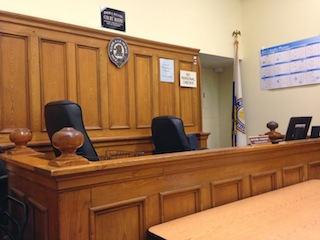 Tips and Tidbits
Ignoring Your Ticket: One of the worst things you can do is ignore your ticket. A failure to answering your ticket may result in your license getting suspended. It is a crime to drive with a suspended license; and if pulled over, the officer can impound the car and arrest the driver.
Entering Your Plea: Directions on how to enter your plea are provided on your ticket. This can be done via mail or in person.
Entering a Not-Guilty Plea: When you enter a not-guilty plea, the court will send you a letter advising you when to come into court. At this court appearance you have the opportunity to present your strengths and weaknesses of your case.
Entering a Guilty Plea: When you enter a guilty plea, the court will send you your fine notice. This fine must be paid by the deadline, or your license will be suspended. Please note that pleading guilty to a ticket is equivalent to a conviction after trial.
Pleading guilty to a speeding ticket can have long-term financial consequences that can cost drivers hundreds in fines, penalties, and insurance increases. Before you plead guilty to your ticket, give our experienced team of lawyers a call to see how we can help you. Call us today at 800-893-9645.
About Our Firm
Hiring our firm can give you a legal advantage. Our team of lawyers is lead by former New York City prosecutor, Joseph Villanueva. With a former prosecutor on your side you have the unique advantage of viewing your case from the perspective of the defense attorney as well as the prosecutor's perspective.
We have over 30 years of experience and have helped countless ill-fated drives reduce fines, points, and insurance increases. Call us today to see how we can do the same for you. Our attorneys can be reached at 800-893-9645.
For more information, please take a look at the following links:
Court Location
Traffic Ticket FAQs
Tips on Avoiding a Speeding Ticket
Top Reasons to Hire an Attorney
Email Us