Lawyer's Traffic Ticket Guide for Hope Town Court

How to Fight a Speeding Ticket in Hope Town
The Town of Hope had a population of 403 at the time of the 2010 U.S. Census. Hope is located in southeastern Hamilton County in Adirondack Park and lies on the borders of Fulton and Saratoga Counties. The Sacandaga River flows southerly through town.
Getting a speeding ticket can be a daunting task, and quite overwhelming. If you are having trouble figuring out your situation, then this guide is here to help you gain some insight in the legal arena.
If you are seeking legal representation, give our experienced attorneys a call today at 800-893-9645.
Court Information
Mailing Address:
Hope Town Court
PO Box 1312
548 State Route 30
Northville, NY 12134
If you have any questions or concerns regarding your court appearance, the court clerk can be contacted.
Check-In: Please be sure to check-in with the court clerk upon your arrival to court. Failure to do so many result in your case not being called.
Tip: It is always a good policy to come to court prepared. Having the court notice in court is advisable. It will help the court ascertain the most important information about your case quickly.
Burden of Proof: Unlike traffic matters heard in the Traffic Violations Bureau of NYC and other parts of the State, tickets in Town and Village Courts must meet the standard of proof beyond a reasonable doubt. Many legal scholars have debated exactly what is meant by proof beyond a reasonable doubt. However, everyone agrees that it is the highest standard of proof in the US judicial system.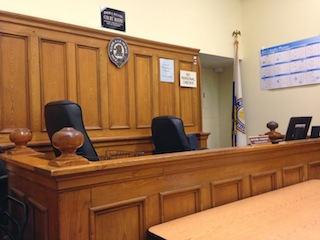 How Many Points am I Facing?
In New York State, a speeding ticket can range from 3-11 points depending on your speed. Please look at the following chart for more information.
| | |
| --- | --- |
| Speeding | Points |
| 01 to 10 mph over the limit | 3 |
| 11 to 20 | 4 |
| 21 to 30 | 6 |
| 31 to 40 | 8 |
| More than 40 | 11 |
Suspension: If a driver obtains 11 or more points on his/her license, the license will be suspended.
Additional Information: Points will affect a driver's privilege to drive for 18 months from the date in which the ticket was issued. In other words, the points do not run from the date of the conviction. They run from the moment the officer issued the summons.
Fine Information
A conviction to an 86/65 mph zone can result in a fine of almost $400.00, an additional $300.00 fine payable to the department of motor vehicles, 6 points on a driving record, and significant insurance increase.
A conviction to a violation with points does not convert into an automatic insurance increase. The algorithm that most insurance companies use to assess an insurance increase is proprietary in nature and not widely shared the public. There are many factors that can be taken into consideration including but not limited the driver's age, type of vehicle driving, and accident history.
About Our Firm
If you are represented by this firm, under conditions, you will not be required to appear in court provided you sign an affidavit authorizing our attorneys to appear on your behalf.
Our skilled and experienced team of attorneys is lead by former NYC prosecutor, Joseph Villanueva. Having a former prosecutor fight for you is a huge legal advantage; we can help you analyze your case from the prosecutor's side as well as the defense attorney's side. In turn, we have helped hundreds of clients reduce fines, points, and insurance increases.
Call us today for your consultation at 800-893-9645.
For additional information, please have a look at the following links:
Traffic Ticket FAQs
Tips on Avoiding a Speeding Ticket
Top Reasons to Hire an Attorney
Email Us