Lawyer's Traffic Ticket Guide for Hurley Town Court

How to Fight a Speeding Ticket in Hurley Town Court
The bulk of the Town of Hurley is situated within Catskill Park in northeast Ulster County. The town also contains a hamlet named Hurley, and a hamlet named West Hurley. The area is served by US Route 209 and New York State Route 28.
If you have been issued a speeding ticket in the town of Hurley, call our Ulster County speeding ticket defense attorneys today at 800-893-9645. Our firm has consistently saved hundreds of clients money, points, and insurance increases.
Court Tips and Tidbits:
Mailing Address:
Hurley Town Court
P O Box 325
10 Wamsley Place
Hurley, NY 12443
The Hurley Justice Court is open every Monday through Friday from 9:00 a.m. to 1:00 p.m., except on Thursday the court is open from 9:00 a.m. to 4:30 p.m. Criminal cases are heard every Tuesday at 6:00 p.m. The Criminal Calendar is scheduled to begin at 4:30 p.m. All other cases are heard at 5:30 p.m. every Thursday.
Entering Your Plea: A driver technically has 48 hours to respond to their summons. For directions on how to enter your plea, please take a look on your ticket. You can enter your plea via mail or in person.
Things to Bring: It is always a good policy to come to court prepared. Having the court notice in court is advisable. It will help the court ascertain the most important information about your case quickly.
A driver should also bring their driving record to court. If the record is clean, it can be persuasive and help mitigate the situation.
Court Tip: If you are a litigant in court, it is important to remember that the court is considered a place of respect. As such, all attendees are asked to dress appropriately; turn off all electronic devices, and to leave all food and drinks outside of the court.
Suspension: You must respond to the summons to prevent a suspension of your driver's license or driving privileges. It is a crime to drive with a suspended or revoked license.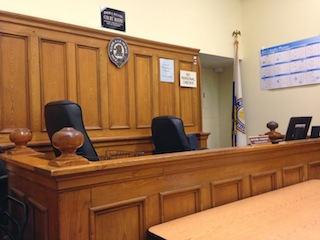 FAQs
How will a speeding conviction affect my insurance?
There are many different things insurance companies take into consideration when they determine a driver's insurance rate. For the most part, the algorithm used is proprietary in nature and the average driver will not be privy to this information.
Some things considered in an insurance policy can include but is not limited to a driver's age, their accident history, the type of car driven, and any convictions to moving violations.
Why did they court not accept my plea of guilty by mail?
It is the court's right to require a driver to appear in court. Some circumstance for which they may require a driver to appear can include an unusually high speed or criminal charges being levied against a defendant.
Do I have to testify at a traffic trial?
I local criminal court, you are innocent until proven guilty. You are not required to testify at your trial.
Do local courts take credit card payments?
Some town courts accept payment by online services and other take credit card payments through a credit card form. Most village courts do not accept credit card payment.
About Our Firm
We have represented a myriad of clients ranging from stock brokers, television celebrities, CDL truck drivers, and concerned parents. Over the years, we have excelled at getting tickets either dismissed or reduced and earned a superb reputation among our peers. We use our experience to your advantage and work steadfastly to your best possible outcome.
If you would like our firm to represent you, give us a call at 800-893-9645.
For more information, please visit the following links:
Traffic Ticket FAQs
Tips on Avoiding a Speeding Ticket
Top Reasons to Hire an Attorney
Email Us