Lawyer's Traffic Ticket Guide for Knox Town Court

How to Fight a Speeding Ticket in Knox Town
The Town of Knox is situated along the borders of both Schoharie and Schenectady Counties in northwestern Albany. The town also contains a hamlet of the same name, plus the hamlets of East Township, West Berne and West Township. Thompson Lake is partially located in southeastern Knox.
Since this area is served by New York State Route 156 and County Route 252, there are many open stretches of road where a driver loses sight of his/her speedometer. In such cases, a driver can face a costly speeding ticket.
If you have been issued a speeding ticket in the town of Knox, call our Albany County traffic ticket lawyers today. Our skilled lawyers can be reached at 800-893-9645.
Court Information
Mailing Address:
Known Town Court
PO Box 116
2192 Berne-Altamont Road
Knox, NY 12107
The Town Clerk's office hours are every Monday and Tuesday from 5:30 to 8:00 p.m. and on Wednesday from 9:00 to 11:00 a.m. Court is in session every Wednesday at 6:00 p.m.
Tip: It is important to notify the court clerk that you are present for your court appearance. A failure to do so may result in your case not being called.
Pleading Not Guilty: In order to plea not guilty to your speeding violation, please follow the directions provided on your ticket. After the court has received your plea, you will be sent a letter notifying you when to appear in court. At this court appearance you will be given the opportunity to present your case's strengths and weaknesses.
Pleading Guilty: If you wish to plead guilty to your speeding violation, please follow the directions provided on your ticket. Once you have entered your plea, the court will send you a fine notice; this fine should be paid prior to the deadline. Failure to pay this fine can result to a suspension of your license. Please note, pleading guilty to a speeding ticket is equivalent to a conviction after trial.
Pleading guilty to a speeding ticket has many long-term financial costs. Some of which include hundreds of dollars on fines, penalties, and insurance increases. Not to mention points will be issued to your license.
In New York State, once you receive 11 points, your license will be suspended. Driving with a suspended license is a crime; if pulled over, the officer can impound the car and have the driver arrested.
Trial: Each motorist is entitled to a trial on his or her traffic matters. In general, a traffic trial will occur on the driver's first court appearance. The first court appearance is usually designated as a pre-trial conference.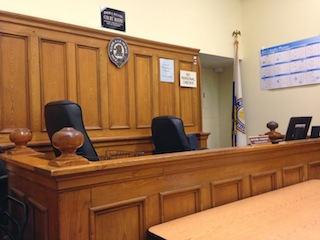 Getting the Legal Advantage
At Villanueva & Sanchala, we are lead by former New York City prosecutor, Joseph Villanueva. Having a former prosecutor on your side, you will be able to see your case from both the prosecutor as well as the defense attorney's perspective.
Our firm has consistently helped countless clients save money, points and insurance increases. We also provide you with the highest quality legal representation; we go to court for you, saving you precious time.
For a consultation, call us today at 800-893-9645.
For more information, please visit the following links:
Traffic Ticket FAQs
Tips on Avoiding a Speeding Ticket
Top Reasons to Hire an Attorney
Email Us
Court Location