Lawyer's Traffic Ticket Guide for Lake Pleasant Town Court

How to Fight a Speeding Ticket in Lake Pleasant Town
The Town, or hamlet, of Lake Pleasant is the county seat for Hamilton County and is located within Adirondack Park, along the Sacandaga River. Historians believe that the area served as hunting grounds for both the Mohawk and Algonquin tribes, due to its location between Sacandaga Lake and Lake Pleasant, and other smaller lakes within the town. The area is served by New York State Routes 8 and 30, which intersect at the Village of Speculator.
With highways such as New York State Routes 8 and 30, there are many open stretches of road where a driver loses sight of the speedometer and if often left facing a hefty speeding ticket.
Going to court can be a daunting task, so we hope this guide helps you find some ease of mind in the legal arena.
If you would like legal representation, call our firm today to see how we can help you save money, points and insurance increases. Our attorneys can be reached at 800-893-9645.
Court Information
Mailing Address:
Lake Pleasant Town Court
PO Box 24
2679 State Route 8
Lake Pleasant, NY 12108
The Town Justice Court is held every Tuesday at 7:00 p.m. and every 4th Tuesday at 3:00 p.m. for DA matters. Town Justices are on call for arraignments at all hours, every day of the week.
Check-in: Upon arriving to the court, please make sure you notify the court clerk that you are present for your court case. Failure to notifying the court clerk may result in your case not being called.
Things to Bring: You should bring your court notice advising you to appear in court. If you are displaced, showing the court personnel your letter may help in directing you where to go and what to do.
Plea: The majority of cases are resolved via plea bargaining. In lieu of having a trial, it may be possible to resolve a traffic matter with a lesser included charge. Most resolution will involve a fine and a surcharge. The surcharge is additional monies payable at the end of case that are paid to New York State.
Ticket Information:
The New York State Police issue traffic tickets on a "Uniform Traffic Ticket." This is also referred to as a "UTT." This is the form that tells you what you are charged with and how to enter a plea.
The UTT also provides other useful information such as the time and date of the occurrence, your speed, the place of the occurrence and the officer's name.
Please note that there are many different police agencies that are authorized to issue tickets. Some of these agencies include but are not limited to the State Police, the Town Police, Sheriff's Office, and Park Police.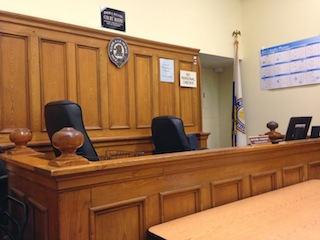 How Many Points am I Facing?
Speeding violations in New York range from 3-11 points, depending on your speed. There is no such thing as a 1-point violation in New York. Please take a look at the following chart for further information:
| | |
| --- | --- |
| Speeding | Points |
| 01 to 10 mph over the limit | 3 |
| 11 to 20 | 4 |
| 21 to 30 | 6 |
| 31 to 40 | 8 |
| More than 40 | 11 |
Once a driver has obtained 11 or more points on his/her license, the license will get suspended. Driving with a suspended license is a crime and if you are pulled over, you can get arrested.
Getting the Legal Advantage
Our speeding ticket defense team is lead by a former NYC prosecutor. Having the experience of working as a prosecutor has helped our firm view traffic matters from a unique perspective. We can quickly analyze the strength and weakness of a traffic ticket from both the prosecution and defense point of view. This can often help our clients gain a tactical advantage in the analysis and defense of their legal matters.
If you should hire our firm, we work to make the process as simple as possible. For example, in most cases, our clients never have to appear in court. Call us now for your consultation at 800-893-9645.
For more information, please check out the following links:
Traffic Ticket FAQs
Tips on Avoiding a Speeding Ticket
Top Reasons to Hire an Attorney
Email Us