Lawyer's Traffic Ticket Guide for Lloyd Town Court

How to Fight a Speeding Ticket in Lloyd Town Court
The Town of Lloyd is located on the western bank of the Hudson River, and is situated in eastern Ulster County. Lloyd is divided on a northerly basis by the Marlboro Mountain range, of which the Illinois Mountain is the highest, at 1,125 feet. The area is served by US Route 9W, US Route 44, and New York State Routes 55 and 299.
Have received a speeding ticket that is returnable to Lloyd Town Court and are trying to make heads or tails of your situation? This guide was created to help you find some ease of mind by familiarizing you with the legal arena.
If you have further questions or looking for legal representation, give our Ulster County speeding ticket defense attorneys a call today at 800-893-9645.
Court Information:
Address:
Lloyd Town Court
12 Church Street, Suite 2
Highland, NY 12528
The Lloyd Justice Court is located on the 2nd floor of the Town Hall, through the rear building entrance. The court offices are open every Monday through Friday from 8:30 a.m. to 4:30 p.m. Court is held every Tuesday at 4:00 p.m., every other Wednesday during the day, and every Thursday at 3:00 p.m.
Court tip: One of the worst things you can do is to ignore your ticket. Failure to Answer a ticket can result in a suspension of a driver's privilege to drive. If a driver is caught driving with a suspended license a police officer may arrest the driver and charge them in a criminal act.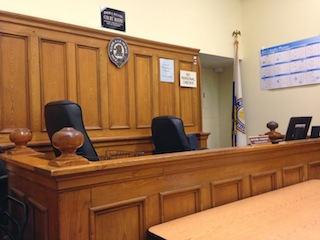 Fighting Your Ticket
If you want to fight your ticket, you will probably waste one day traveling to and from court and waiting in court.
If you are unable to attend a traffic court conference date issued by a court, our law firm can stand in your place. In other words, there is no need for you to appear in court and miss work, school or any other social obligation. To find out more call our attorneys today at 800-893-9645.
FAQs
How will a speeding conviction affect my insurance?
There are many different things insurance companies take into consideration when they determine a driver's insurance rate. For the most part, the algorithm used is proprietary in nature and the average driver will not be privy to this information.
Some things considered in an insurance policy can include but is not limited to a driver's age, their accident history, the type of car driven, and any convictions to moving violations.
There is a court date on the front of my ticket and the back of my ticket says I have 48 hours to respond. Which one do I follow?
Technically, you have 48 hours from the time your ticket is issued to enter a plea of not guilty by mail.
When are traffic ticket fines payable?
In local court, the customary practice is for drivers to pay their fines the same day they appear in court. Some judges will use their judicial discretion and allow a driver to pay a few days after the court appearance.
Aren't speeding tickets a pure money grab for small municipalities?
Many public officials around the United States have denounced the belief that speeding tickets are issued to raise revenue. Public officials have consistently stated that tickets are a way to hold public safety their highest priority.
About Our Firm
We are experienced trial attorneys with significant experience in fighting traffic tickets including but not limited to speeding under VTL 1180, texting while driving, and disobeying a traffic control device.
Call us today for a consultation at 800-893-9645.
For further information, please check out the following links:
Traffic Ticket FAQs
Tips on Avoiding a Speeding Ticket
Top Reasons to Hire an Attorney
Email Us
Court Location