Lawyer's Traffic Ticket Guide for Malborough Town Court

How to Fight a Speeding Ticket in Malborough Town Court
While a speeding ticket can be a nuisance, it can also be a huge financial burden. A conviction to a ticket in Suffern for traveling 86/65 mph zone can carry almost $400.00 in fines and surcharges, an additional $300.00 in penalties to the Department of Motor Vehicles, hundreds in insurance costs, and even incarceration. This is not to mention the time wasted sitting in court and the possible license suspension for repeat offenders. Hiring our traffic ticket law firm can save you a lot of money and save you a lot of aggravation. Give us a call at 800-893-9645.
About the Court
Marlborough Town Court offices are open every Monday through Friday, except for holidays, from 8:00 a.m. to 4:00 p.m. The Town Court entrance is through the Marlborough Police Station (as of November 2, 2013), and is in session every Tuesday and Wednesday at 5:00 p.m. with alternating judges. Payment of fines may be made in person between 10:00 a.m. and 3:00 p.m., using cash, in the form of exact change only, or MasterCard or Visa. Personal and/or business checks are not accepted.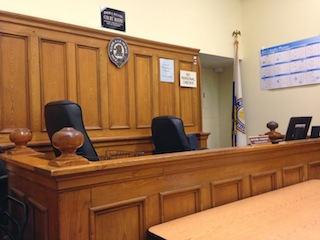 Knowledge is Power
The more you know about the speeding ticket process, the better prepared you will be for the speeding ticket experience. Here is some basic information about the court.
Court Tip: It is always a good policy to come to court prepared. Having the court notice in court is advisable. It will help the court ascertain the most important information about your case quickly.
Dress Code: While there is no official dress code, it is important that you dress neatly and always conduct yourself in a respectful manner with the court. Many judges frown upon litigants wearing shorts, open toe sandals, and other similar items.
Plea: The majority of cases are resolved via plea bargaining. In lieu of having a trial, it may be possible to resolve a traffic matter with a lesser included charge. Most resolution will involve a fine and a surcharge. The surcharge is additional monies payable at the end of case that are paid to New York State.
FAQs
If a plea of guilty is entered by mail, does the fine need to be paid at the same time?
In general, when a driver mails the court their guilty plea, the court will send back a letter with the fine amount with a date certain to pay the fine. If the driver does not get a response in 5 business days, the driver should call the court to follow up on the status of their ticket.
Is the date on the front of my ticket my court date?
Ultimately, the date on the front of your ticket may be your court date but for the most part, it is your respond by date.
At a speeding ticket trial, will have an opportunity to see the radar reading?
You can make a motion to view all available discovery. If the discovery is not provided, you can make the appropriate motion to sanction the prosecution.
About Our Firm
If you received a ticket that is returnable to the Malborough Town traffic court, give our Ulster County traffic ticket lawyers a call to learn how we can help you fight your ticket and save money. We have helped hundreds of driver's protect their licenses and their exposure to hundreds of dollars in fines and penalties. Our lawyers can be reached at 800-893-9645.
For more information, please take a look at the following links:
Traffic Ticket FAQs
Tips on Avoiding a Speeding Ticket
Top Reasons to Hire an Attorney
Email Us