Lawyer's Traffic Ticket Guide for Marbletown Town Court

How to Fight a Speeding Ticket in Marbletown Town Court
The Town of Marbletown is situated in the center of Ulster County, on the eastern edge of Catskill Park. The town celebrated its 310th anniversary of township on June 22, 2013.
Since the area is served by US Route 209 and New York State Route 213, there are many open stretches of road where a driver can easily lost sight of the speed limit. Further complicating things is the rolling hills of the changing topography. With such factors a driver can find themselves facing a hefty speeding ticket.
If you have been issued a speeding ticket in the town of Marbletown in Ulster County, then give our Ulster County speeding ticket lawyers a call today. We have saved hundreds of clients exposure to fines, points and insurance increases. Our experienced lawyers can be reached at 800-893-9645.
Court Tips and Tidbits
Mailing Address:
Marbletown Town Court
P O Box 128
3775 Main Street
Stone Ridge, NY 12484
The court offices are open every Monday through Friday from 8:30 a.m. to 4:30 p.m.; but only accept payment of fines until 4:00 p.m. daily. Court is held, with alternating judges, every Monday at 5:00 p.m.
Court Tip: It is good policy to arrive early to your court date. If you arrive late you may miss your case being called. You should also notify the court clerk that you are present for your case; failure to notifying the court clerk can result in your case not being called.
Things to Bring: Please be sure to bring in your court notice and driving record. Your court notice will help in directing where you have to go in court and your driving record could be persuasive to your case if it is clean.
In addition, if your case is resolved at the court appearance, you should bring enough money to pay the court fines and fees.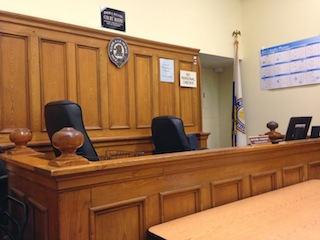 How Many Points Will I Face?
In New York State, a speeding violation ranges from 3-11 points. There is no such thing as a 1-point violation. The following chart shows how many points a speeding violation will result to:
| | |
| --- | --- |
| Speeding | Points |
| 01 to 10 mph over the limit | 3 |
| 11 to 20 | 4 |
| 21 to 30 | 6 |
| 31 to 40 | 8 |
| More than 40 | 11 |
If a driver has obtained 11 or more points, their license will be suspended. It is a crime to drive with a suspended license; if pulled over, the officer can impound the car and arrest the driver.
About Our Firm
We have consistently helped our clients reduce their exposure to costly fines, points, and insurance increases. In so doing, we have gained a reputation as some of the best lawyers in New York.
Our team of lawyers are lead by a former New York City prosecutor who has the unique experience of seeing cases as both a prosecutor and defense attorney. This experience may make the difference in the successful resolution of your case.
For high quality legal representation call our attorneys a call today at 800-893-9645
For more information, be sure to check out the following links:
Traffic Ticket FAQs
Tips on Avoiding a Speeding Ticket
Top Reasons to Hire an Attorney
Email Us
Court Location: