Lawyer's Traffic Ticket Guide for Menands Village Court

How to Fight a Speeding Ticket in Menands Village
The Village of Menands lies entirely within the Town of Colonie on the northern border of the Albany, New York. The village is named after Louis Menand, the areas only resident in 1856, when the Albany & Northern Railroad was built; the village then was called "Menand's Crossing". The area of Menands is served by New York State Routes 32 and 378. U.S. Route 767 runs parallel to the Hudson River to the east of the village.
If you have received a speeding ticket that is returnable to Menands Village Court, call our experienced attorneys at 800-893-9645; we have helped hundreds of clients in Albany and all over New York save money, points and insurance increases.
Court Information and Tips
Address:
Menands Village Court
Menands Municipal Building
250 Broadway
Menands, NY 12204
The Court Clerk's office is located on the 2nd floor of the Municipal Building, and is open every Monday through Friday from 8:00 a.m. to 4:00 p.m. except for holidays. Contact the court clerk for information about fines or court times.
Court Appearance: In order to defend yourself against a traffic matter, a personal appearance is necessary. Many drivers plead guilty to a traffic ticket because going to court is such a hassle. Luckily, there is an easier way; our attorneys will go and represent you in court so you don't have to.
Before pleading to your ticket, call our attorneys today to see how we can help you. Our attorneys can be reached at 800-893-9645.
Tip: It is very important to notify the court clerk that you are present for your court appearance. A failure to notify the court clerk can result in your case not being called.
Come Prepared: It is always a good policy to come to court prepared. Having the court notice in court is advisable. It will help the court ascertain the most important information about your case quickly.
A driver should also bring their driving record to court. If the record is clean, it can be persuasive and help mitigate the situation.
Dress Code: Although there is no official dress code enforced, we highly recommend all litigants dress neatly and always conduct themselves in a respectful manner. Many judges frown upon those who are dressed in shorts, open-toe sandals, tank tops, or other similar items.
Trial: Each motorist is entitled to a trial on his or her traffic matters. In general, a traffic trial will occur on the driver's first court appearance. The first court appearance is usually designated as a pre-trial conference.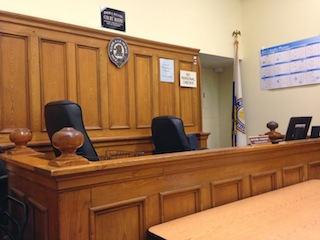 About Our Firm
Our team of lawyers is lead by a former NYC prosecutor who has the unique experience of seeing cases as both a prosecutor and defense attorney. This experience may make the difference in the successful resolution of your case.
We have consistently helped clients all over New York State save exposure to fines, points and insurance increases. In doing so, we have earned the reputation as some of the best lawyers in the area. Call us now at 800-893-9645 for a consultation.
For further information, please take a look at the following links:
Traffic Ticket FAQs
Tips on Avoiding a Speeding Ticket
Top Reasons to Hire an Attorney
Email Us
Court Location