Lawyer's Traffic Ticket Guide for Morehouse Town Court

How to Fight a Speeding Ticket in Morehouse Town
The Town of Morehouse was named after Andrew Morehouse, who arrived in 1835, and is situated near the hamlet of Hoffmeister, at the base of Fort Noble Mountain (Alt. 2,310 feet, or 704.09 meters). The population was 86 according to the 2010 U. S. Census. Moose River flows past the northern edge of town, which is served by New York State Route 8.
Since New York State Route 8 serves many open stretches of road, many drivers often lose track of their speedometer and unfortunately face a costly speeding ticket.
A speeding ticket can cost you hundreds of dollars on fines and penalties, points on your license, and money on insurance increases.
Luckily, there is a better way to save your money, time and points. You can call our Hamilton County speeding ticket defense lawyers today. We provide our clients with the highest quality legal representation. Call us now at 800-893-9645.
Court Information and Facts
Mailing Address:
Morehouse Town Court
PO Box 16
733 State Route 8
Hoffmeister, NY 13353
Drivers must timely respond to a traffic summons to prevent a suspension of their privilege to drive. Once the department of motor vehicles has been notified that a license should be suspended, it can be very difficult to undo the suspension. The process of un-suspending a license can include the payment of a suspension lift fee, the payment of a bond, and an appearance in court.
Court Clerk: The role of the Court Clerk is to assist the Judges in carrying out their duties. They may assist the Judges in court as well as out of court. Many clerks send letters to litigants, collect fine monies, and help answer day-to-day questions before the court.
Sign-in: Even though you may have met with the officer in court and discussed your matter, it is important to check-in with the court clerk in the front of the courtroom. Failure to advise the clerk that you are in court may result in your case not being called.
Prosecutor: For the most part, tickets are prosecuted by the District Attorney's Office. This is the same office that prosecuted criminal cases such as misdemeanor drug possession and felony assault.
It is possible to reach a plea bargain on most cases. It has been our experience that excessive speeding, repeat offenders, and cell phone violators will have a difficult time securing a favorable resolution.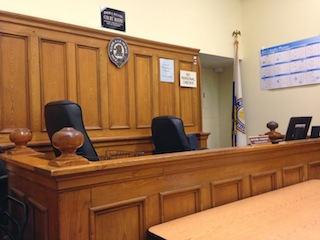 About Our Firm
Our law attorneys have represented hundreds of drivers in Hamilton County and throughout New York State. Our result-oriented firm has helped us gain a superb reputation among our peers. We have over 30 years of experience and have been fighting for drivers like you.
Call us now at 800-893-9645.
For more information, take a look at the following links:
Traffic Ticket FAQs
Tips on Avoiding a Speeding Ticket
Top Reasons to Hire an Attorney
Email Us