Lawyer's Traffic Ticket Guide for New Paltz Village Court

How to Fight a Speeding Ticket in New Paltz Village Court
The Village of New Paltz is the site of the State University of New York – New Paltz, which opened its doors in 1828. The area is served by Interstate 87, also known as the New York State Thruway.
Factoring SUNY New Paltz and I-87, many drivers often lose track of the speed limit and find themselves facing a hefty speeding ticket.
If you have been issued a speeding ticket in the village of New Paltz, give our experienced attorneys a call today at 800-893-9645. We have helped countless clients all over New York State reduce fines, points and insurance increases.
Court Tips and Tidbits
Address:
New Paltz Village Court
23 Plattekill Avenue
New Paltz, NY 12561
The New Paltz Village Court Clerk's office is open every Monday through Thursday from 8:30 a.m. to 3:30 p.m. and on Friday from 8:30 a.m. to 12:00 p.m. An email link for processing parking tickets only is available online. Court is in session every Tuesday and 4:00 p.m. and Wednesday at 6:00 p.m. at the courthouse. Contact the Court Clerk for assistance with moving and other non-moving violations.
Security: Immediately prior to entering the court, you will be asked to walk through a magnetometer and asked to turn off all electronic devices. The court is secured by special court attendants. These officers help facilitate the court process and one of their key function is to note attendees who arrive to court. Your failure to check in with one of the officers may result in your case not being called.
Trial: Each motorist is entitled to a trial on his or her traffic matters. In general, a traffic trial will occur on the driver's first court appearance. The first court appearance is usually designated as a pre-trial conference.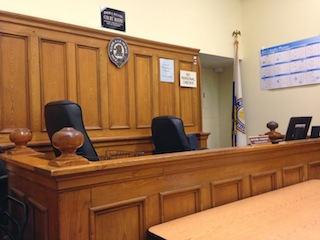 Points Information
Speeding convictions range from 3-11 points; there is no such thing as a 1-point violation in New York State. The following chart outlines how many points a driver is facing with a speeding conviction:
| | |
| --- | --- |
| Speeding | Points |
| 01 to 10 mph over the limit | 3 |
| 11 to 20 | 4 |
| 21 to 30 | 6 |
| 31 to 40 | 8 |
| More than 40 | 11 |
Drivers with 11 or more points will have their license suspended. Points are in affect for 18 months from the date which the ticket was issued.
New York State Assessment
New York State imposes a Driver Responsibility Assessment (also known as a DRA) for drivers who accumulate six points or more on the driving record. Call our lawyers now at 800-893-9645 for a consultation.
Assessment
Fine
Six points or more on record
$300 one time payment;
or $100 each year for 3 years
Any additional points earned over six points
$25 for each point for 3 years
Refusing to take a breathalyzer test, conviction for alcohol related traffic offense or conviction for drug related traffic offense
$250 each year for 3 years
About Our Firm
Our law firm has been fighting on behalf of drivers just like you. We have helped hundreds of drivers reduce their exposure to points on their license, fines, and insurance increases. If you would like to save money, give our attorneys a call today at 800-893-9645.
For more information, please visit the following links:
Traffic Ticket FAQs
Tips on Avoiding a Speeding Ticket
Top Reasons to Hire an Attorney
Email Us
Court Location