Lawyer's Traffic Ticket Guide for New Scotland Justice Court

How to Fight a Speeding Ticket in New Scotland Town
The Town of New Scotland is situated in central Albany County, southwesterly of the City of Albany, which is the New York State capital. While the area was first settled in the mid-17th century, New Scotland was not founded as a town until 1832, and was originally part of Bethlehem, New York. The area of New Scotland is served by New York State Route 85.
On New York State Route 85, many drivers lose track of their speedometer and find themselves facing a hefty speeding ticket.
Speeding tickets are no laughing matter; not only are they annoying, but they can be very costly. If you were driving 76 mph on a 55 mph zone, you would be facing 6 points on your license as well as a fine up to $393.00 payable to the court, and a fine of about $300.00 payable to the Department of Motor Vehicles. Not to mention insurance increases that may occur due to a speeding violation.
If you are looking for the highest quality legal representation, please call our attorneys at 800-893-9645 for your consultation.
Court Tips and TidbitsMailing Address:
New Scotland Justice Court
Albany County Public Safety & Community Resource Building
PO Box 318
58 Verda Avenue
Clarksville, NY 12041
The New Scotland Justice Court is located at the address above, in what was the old Clarksville Elementary School building. The court clerks are available every:
Monday - Wednesday from 8:30 a.m. to 3:00 p.m.
Thursday from 12:00 to 6:00 p.m.
Friday from 8:30 a.m. to 1:00 p.m.
Court is in session every Thursday at 5:00 p.m.
Security: Upon entering the court, you will be asked to walk through a magnetometer for security reasons. Please leave all food and drinks outside the court and switch off all electronic devices.
Sign-in: It is very important that you remember to notify the court clerk that you are present for your court date. A failure to notifying the court clerk may result in your case not being called.
Court Clerk: The role of the court clerk is to help the Judges with their duties. Many court clerks will send letters to litigants, collect fines, and help answer day-to-day questions you may have.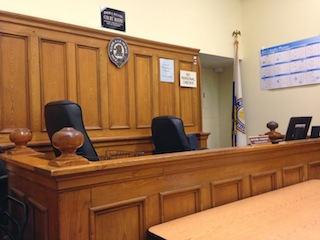 FAQs
How many points am I facing?
In New York State, a speeding conviction ranges from 3-11 points, please take a look at the following chart:
| | |
| --- | --- |
| Speeding | Points |
| 01 to 10 mph over the limit | 3 |
| 11 to 20 | 4 |
| 21 to 30 | 6 |
| 31 to 40 | 8 |
| More than 40 | 11 |
Once a driver has obtained 11 or more points, his/her license will be suspended. Driving with a suspended license is a crime; if pulled over, the officer can impound the car and arrest the driver.
Can't every speeding ticket be dismissed or resolved with zero points?
Every case is unique. Every court is unique. It is difficult to make a blanket statement with regard the ultimate resolution of a legal matter.
Is the date on the front of my ticket my court date?
Ultimately, the date on the front of your ticket may be your court date but for the most part, it is your respond by date.
About Our Firm
At our law firm, we have a team of skilled and experienced attorneys lead by a former New York City prosecutor. We provide all our clients with the highest quality legal representation, as such we have earned the reputation as some of the Best Lawyers in New York State.
Have our attorneys represent you today. Call us now at 800-893-9645.
For further information, be sure to check out the following links:
Traffic Ticket FAQs
Tips on Avoiding a Speeding Ticket
Top Reasons to Hire an Attorney
Email Us