Lawyer's Traffic Ticket Guide for Rochester Town Court

How to Fight a Speeding Ticket for Rochester Town Court
The Town of Rochester was settled in 1672, and is situated partially in the foothills of the Catskill Mountains. With a population of 7,313 according to the 2010 US Census, the town includes 19 hamlets, of which one is Accord. The Rochester Town Hall is located in Accord, but the Justice Court is situated in the hamlet of Kerhonkson.
Many drivers are often ticketed in open stretches of road such as those in US Route 209. Further complicating things is the rolling hills of the topography as well as the constantly changing speed limits. With such factors, many drivers are faced with a hefty speeding ticket.
If you have been issued a speeding ticket in the town of Rochester, give our Ulster County traffic ticket defense lawyers a call today at 800-893-9645. We have helped hundreds of clients save money on fines, points on their license, and insurance increases.
Court Information
Mailing Address:
Rochester Town Court
P O Box 167
140 Samsonville Road
Kerhonkson, NY 12446
The Rochester Town Court hours are from 8:00 a.m. to 12:00 p.m. every Monday through Thursday. Court is in session every Wednesday at 6:00 p.m.
Court Clerk: The role of the Court Clerk is to assist the Judges in carrying out their duties. They may assist the Judges in court as well as out of court. Many clerks send letters to litigants, collect fine monies, and help answer day-to-day questions before the court.
It is also important that you notify the court clerk that you are present for your court case. Failure to notify the court clerk may result in your case not being called.
Trial: Each motorist is entitled to a trial on his or her traffic matters. In general, a traffic trial will occur on the driver's first court appearance. The first court appearance is usually designated as a pre-trial conference.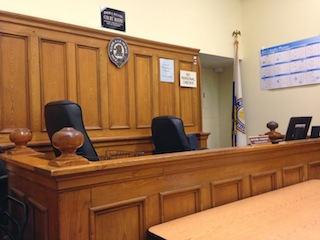 How Many Points Will I Face?
In New York State, there is no such thing as a 1-point violation. Speeding tickets range from 3-11 points, which will affect a driver's privilege to drive for 18 months from the date the summons was issued.
The following chart outlines the amount of points as per the driver's speed:
| | |
| --- | --- |
| Speeding | Points |
| 01 to 10 mph over the limit | 3 |
| 11 to 20 | 4 |
| 21 to 30 | 6 |
| 31 to 40 | 8 |
| More than 40 | 11 |
Please note that once a driver has received 11 points, their license will be suspended. It is a crime to drive with a suspended license, and if pulled over the officer can impound the car and arrest the driver.
About Our Firm
Our team of attorneys is lead by former New York City prosecutor, Joseph Villanueva. Having a former prosecutor on your side, you have the advantage of being able to view your case from the defense attorney's side as well as the prosecutor's side. We have consistently helped clients all throughout New York save money on fines, points on their license, and insurance increases.
Call now at 800-893-9645 for a consultation.
For further information, please visit the following links:
Traffic Ticket FAQs
Tips on Avoiding a Speeding Ticket
Top Reasons to Hire an Attorney
Email Us