Lawyer's Traffic Ticket Guide for Rosendale Town Court

How to Fight a Speeding Ticket in Rosendale Town Court
Have you been issued a speeding ticket in the town of Rosendale, New York? Are you having difficulty making heads or tails of your speeding ticket? Then this guide was created for you by our attorneys to help you familiarize yourself with the world of speeding tickets.
The Town of Rosendale is situated in the center of Ulster County, and was settled about 1685 by immigrants from Europe. The Rondout Creek flows through the middle of town, in a northeasterly direction. The area is served by Interstate 87, which runs concurrently with the Governor Thomas E. Dewey Thruway or New York State Thruway, a toll road.
Interstate 87 serves many open stretches of road where drivers often lose sight of the changing speed limits. Furthermore, the rolling hills and change of topography can easily land a driver with a hefty speeding ticket.
If you are looking for legal representation, call our attorneys today at 800-893-9645.
Court Facts and Information
Mailing Address:
Rosendale Town Court
P O Box 423
520 Lefever Falls Road
Rosendale, NY 12472
The Rosendale Town Court is in session every Tuesday evening. The court clerk's office is located at the Police/Justice Building and is open every Monday through Thursday from 9:00 a.m. to 4:00 p.m. The office is open on Friday by appointment only.
Security: The court is a secure place, as such you will be asked to walk through a magnetometer. It is advised that all electronics be turned off and all food and drinks should be discarded prior to entering the court.
Tip: It is always good polity to arrive early to your court date. If you arrive late, you many miss when your case is called. In addition, it is important to notify the court clerk that you are present for your case. A failure to notify the court clerk may result in your case not being called.
Ticket Information
Speeding tickets can be issued by several police agencies. These may include but are not limited to the State Police, Town/Village Police, Park Police, or the Sherriff's Office.
Uniform Traffic Ticket: A Uniform Traffic Ticket is also known as a "UTT" and used by the New York State Police. It contains a lot of important information such as what you charged with, your speed, the officer's name, location of the violation, and much more.
The UTT also contains instructions on how to enter your plea. This can be done via mail or in person.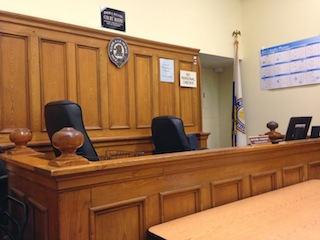 FAQs
How many points are allowed until a license is suspended?
There are many reasons why a driver may have their privilege to drive suspended. With respect to points, a driver will suspended upon receiving 11 or more points within an 18 month period.
What happens if I fail to respond to my speeding ticket?
Failing to respond can result in your license being suspended. Driving with a suspended license can be charged as a crime. You can be arrested and subject to incarceration.
Can't every speeding ticket be dismissed or resolved with zero points?
Every case is unique. Every court is unique. It is difficult to make a blanket statement with regard the ultimate resolution of a legal matter.
About Our Firm
At Villanueva & Sanchala, we provide our clients with the highest quality legal representation. Our team of lawyers is led by a former prosecutor, giving you the unique advantage of viewing your case from the defense attorney's perspective as well as the prosecutor's perspective.
Our attorneys have continuously saved clients money, points, and insurance increases. We also represent you in court, saving you time.
Call us now at 800-893-9645 for a consultation.
For further information, be sure to check out the following links:
Traffic Ticket FAQs
Tips on Avoiding a Speeding Ticket
Top Reasons to Hire an Attorney
Email Us