Lawyer's Traffic Ticket Guide for Saugerties Town Court

How to Fight a Speeding Ticket in Saugerties Town Court
The Town of Saugerties was established around 1831, after being settled by German Palatines and Dutchmen. The land had been earlier purchased from Esopus Indians by Governor Edmund Andros in 1677. The town also contains a village of the same name. The area is served by US Route 9W and New York State Route 32.
If you have been issued a speeding ticket that is returnable to Saugerties Town Court, call our Ulster County speeding ticket defense lawyers today. We have helped countless clients reduce fines, points, and insurance increases. Our lawyers can be reached at 800-893-9645.
In the meantime, this guide should help you familiarize yourself with the legal arena.
Court Tips and Tidbits
Address:
Saugerties Town Court
4 High Street
Saugerties, NY 12477
The Saugerties Court Clerk's office is open every Monday through Friday except for holidays from 8:00 a.m. to 4:00 p.m. Court is in session every Wednesday at 7:00 p.m., unless otherwise directed.
Court Clerk: The role of the Court Clerk is to assist the Judges in carrying out their duties. They may assist the Judges in court as well as out of court. Many clerks send letters to litigants, collect fine monies, and help answer day-to-day questions before the court.
Tip: Be sure to notify the court clerk that you are present for your court date. Failure to do so may result in your case not being called.
What to Bring: you should bring your court notice advising you to appear in court. If you are displaced, showing the court personnel your letter may help in directing you where to go and what to do.
Dress Code: Although there is no dress code enforced. It is highly recommended to dress up in formal wear. Judges often times frown upon individuals who are dressed in shorts, open-toed sandals, or other informal wear.
If Found Guilty: If you are found guilty of speeding, there are many different ways in which it may affect you. This can include but is not limited to fines payable to the court, penalties payable to the Department of Motor Vehicles, insurance increases, and incarceration.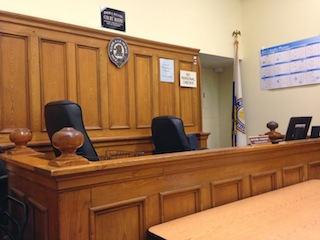 Fines and Points
In terms of quantifiable dollars and cents, the average conviction to a 76/55 mph zone is a 6-point violation which will usually face a fine up to about $400.00, a $300.00 fine payable to DMV, and a few hundred dollars in insurance increases.
Please note, insurance increases vary individually; two similarly situated drivers could have different insurance increases. Insurance companies also take into account other factors. These many include but are not limited to, the driver's age, type of car, and the driver's accident history.
Points: In New York State, speeding violations range from 3-11 points. The following chart outlines how many points a driver will be issued in correspondence to his/her speed:
| | |
| --- | --- |
| Speeding | Points |
| 01 to 10 mph over the limit | 3 |
| 11 to 20 | 4 |
| 21 to 30 | 6 |
| 31 to 40 | 8 |
| More than 40 | 11 |
About Our Firm
Our lawyers have fought hundreds of tickets all over NYS. We have consistently reduced our client's exposure to fine, points, and insurance increases. Let our former prosecutor and team of lawyers go to court for you and help you reach an amicable resolution on your ticket.
Call us today at 800-893-9645.
For further information, please visit the following links:
Traffic Ticket FAQs
Tips on Avoiding a Speeding Ticket
Top Reasons to Hire an Attorney
Email Us
Court Location