Lawyer's Traffic Ticket Guide for Shawangunk Justice Court

How to Fight a Speeding Ticket in Shawangunk Justice Court
The Town of Shawangunk (Pronounced "Shongum" by local area residents) is named after the mountain range of the same name and was settled about 1670 by immigrants from Europe. The Wallkill River flows through the eastern section of town. The area is traveled by mostly county roads, although New York State Route 208 joins County Route 19 at Wallkill.
If you have received a speeding ticket that is returnable to Shawangunk Justice Court, and are feeling overwhelmed this guide should help you make head and tails of your situation.
For legal representation call our experienced Ulster County traffic defense lawyers today at 800-893-9645.
Court Tips and Tidbits
Mailing Address:
Shawangunk Justice Court
PO Box 247
14 Central Avenue
Wallkill, NY 12589
A form for submitting a plea for a traffic citation is available online. Contact the court for more information.
Court Clerk: The role of the Court Clerk is to assist the Judges in carrying out their duties. They may assist the Judges in court as well as out of court. Many clerks send letters to litigants, collect fine monies, and help answer day-to-day questions before the court.
Tip: It is important that you notify the court clerk that you are present for your court date. Failure to do so may result in your case not being called.
Trial: Each motorist is entitled to a trial on his or her traffic matters. In general, a traffic trial will occur on the driver's first court appearance. The first court appearance is usually designated as a pre-trial conference.
Judges: While a plea bargain can be struck between the prosecutor and a defendant, the judge has the ultimate power to accept or reject the proposed disposition. If the court accepts the resolution, a fine will be assessed.
Fines that are imposed by a Judge are set by the New York State Legislature and codified within the New York Vehicle and Traffic Law. There are limits to the amount that driver can be fined.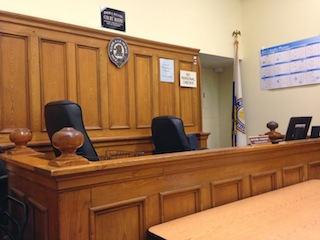 FAQs
Why did they court not accept my plea of guilty by mail?
It is the court's right to require a driver to appear in court. Some circumstance for which they may require a driver to appear can include an unusually high speed or criminal charges being levied against a defendant.
Do I have to testify at a traffic trial?
I local criminal court, you are innocent until proven guilty. You are not required to testify at your trial.
What happens if I fail to respond to my speeding ticket?
Failing to respond can result in your license being suspended. Driving with a suspended license can be charged as a crime. You can be arrested and subject to incarceration.
Getting the Legal Advantage
In terms of quantifiable dollars and cents, the average conviction to a 76/55 mph zone will usually face a fine up to about $400.00, a $300.00 fine payable to DMV, and a few hundred dollars in insurance increases.
Luckily, there is a better way to save you money, time, and points on your license.
Our attorneys provide our clients with the highest quality legal representation. Call our attorneys now at 800-893-9645 for your consultation.
For more information, have a look at the following links:
Traffic Ticket FAQs
Tips on Avoiding a Speeding Ticket
Top Reasons to Hire an Attorney
Email Us