Lawyer's Traffic Ticket Guide for Voorheesville Village Court

How to Fight a Speeding Ticket in Voorheesville Village
The Village of Voorheesville lies entirely inside the town of New Scotland, New York, and is a suburb to the City of Albany. Two railroads, built in 1864, attempted to find a way around the Helderberg Mountains, and went through New Scotland. Voorheesville came into being at the crossing of the two railroads. Voorheesville is situated along County Route 3006 and New York State Routes 85A and 155.
Have you received a speeding ticket that is returnable to Voorheesville Village Court? Are you trying to make heads or tails out of your situation? Then this guide was created for you by our attorneys to help you find some ease of mind in the legal arena.
If you would like legal representation for your case, call us now at 800-893-9645.
Court Facts and Information
Mailing Address:
Voorheesville Village Court
PO Box 367
29 Voorheesville Avenue
Voorheesville, NY 12186
The Voorheesville Village Clerk's office is open every Monday through Friday from 9:00 a.m. to 4:00 p.m. except for holidays. Contact the clerk's office for additional information.
Court Clerk: The court clerk's main role is to assist the Judge(s) with their duties. In addition to assisting the Judge, the court clerk sometimes sends letters to litigants, collects fine monies, and helps answer any day-to-day questions which may arise.
Tip: Please be sure to check-in with the court clerk upon arriving to court. Failure to notifying the court clerk that you are present for your court case may result in your case not being called.
Judge: Prior to taking the bench, each judge has taken an oath of office and is sworn to uphold the laws and rules of New York and the United States.
While a plea bargain can be struck between the prosecutor and a defendant, the judge has the ultimate power to accept or reject the proposed disposition. If the court accepts the resolution, a fine will be assessed.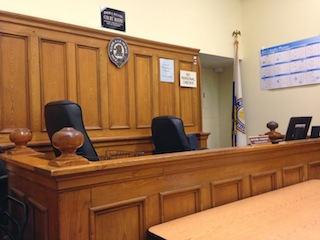 Additional Information
Fines and Points: Did you know a driver charged with 80 mph on a 55 mph speed zone is facing a 6-point violation. There are many sentencing options available to the judge. Some of the sentences can include jail, a fine of almost $400.00, and a discretionary license suspension. A conviction to charge can also result in an additional minimum $300.00 fine payable to DMV. Further, depending on a driver's driving record, this conviction can also result in hundreds in insurance increases and a license suspension.
As far as points are concerned, they range from 3-11 points depending on how many miles per hour over the speed limit you were. The following chart sums it up:
| | |
| --- | --- |
| Speeding | Points |
| 01 to 10 mph over the limit | 3 |
| 11 to 20 | 4 |
| 21 to 30 | 6 |
| 31 to 40 | 8 |
| More than 40 | 11 |
Suspension: A driver could be suspended from their privilege to drive for several reasons. Some include but are not limited to not answering your ticket on time, not paying your fines on time, and obtaining 11 or more points on your license.
Once the DMV has been notified to suspend a license it is very difficult and costly to lift that suspension. It is also important to note that driving with a suspended license is a crime. If you happen to be pulled over, your car can be impounded and the officer could arrest you.
Junior License: If you are issued a speeding ticket and possess and junior license, you may have to appear in court regardless of your plea. A driver that posses a junior license should be very alert and careful in handling traffic matters because New York State has more stringent guidelines for young drivers.
The Legal Advantage
One of the many advantages to hiring our firm is that our team of lawyers is lead by former New York City prosecutor, Joseph Villanueva. With a former prosecutor on your side, we analyze and discuss your case from both the defense as well as the prosecutor's perspectives.
With over 30 years of experience, we provide our clients with the highest quality legal representation. We have earned the reputation as some of best lawyers in New York,; call us for your consultation today at 800-893-9645.
For more information, please check out the following links:
Traffic Ticket FAQs
Tips on Avoiding a Speeding Ticket
Top Reasons to Hire an Attorney
Email Us