Lawyer's Traffic Ticket Guide for Woodstock Town Court

How to Fight a Speeding Ticket in Woodstock Town Court
The Town of Woodstock is situated in northern Ulster County and was settled around 1770. The town is situated within the Catskill Park. Numerous artists and musicians have flocked to the area since it was first formed, due to the beautiful landscapes.
Have you received a speeding ticket in the town of Woodstock, New York? Fighting a speeding ticket can be very overwhelming, so our attorneys have created this guide to help you find some ease of mind when it comes to the world of speeding tickets.
If you would like to hire a lawyer to fight your speeding ticket, give us a call at 800-893-9645. We have continuously helped clients save money, points and insurance increases.
Court Information and Tips
Address:
Woodstock Town Court
76 Tinker Street
Woodstock, NY 12498
Dress Code: While there is no official dress code, it is important that you dress neatly and always conduct yourself in a respectful manner. Judges often frown upon those individuals who wear shorts, open tow sandals, or other similar items.
Court Clerk: The Court Clerk's role is to assist the Judge in carrying out duties. Many Court Clerks send letters to litigants, collect fines, and help answer any day-to-day questions litigants have before the court.
It is important that you check-in with the Court Clerk once you have arrived at court. A failure to notify the Court Clerk that you are present for your court date may result in your case not being called.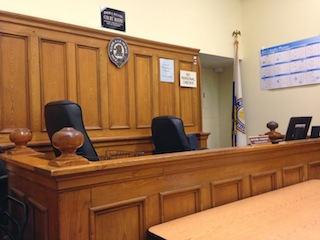 Entering Your Plea
Instructions on how to enter your plea are provided on your speeding ticket. Your plea may be entered via mail or in person.
Pleading Not Guilty: If you plead not guilty, the court will send you a letter with your court date. At this court appearance you have the opportunity to display the strengths and weakness of your case.
Pleading Guilty: If you plead guilty to your speeding violation, the court will send you a fine letter. This fine should be paid before the deadline. Consequences to not paying your fine on time can lead to suspension of your license.
Please note, pleading guilty to a speeding violation is equivalent to a conviction after trial.
FAQs
Is the date on the front of my ticket my court date?
Ultimately, the date on the front of your ticket may be your court date but for the most part, it is your respond by date.
Can't every speeding ticket be dismissed or resolved with zero points?
Every case is unique. Every court is unique. It is difficult to make a blanket statement with regard the ultimate resolution of a legal matter.
What happens if I fail to respond to my speeding ticket?
Failing to respond can result in your license being suspended. Driving with a suspended license can be charged as a crime. You can be arrested and subject to incarceration.
About Our Firm:
At Villanueva and Sanchala, we have over 30 years of legal experience and we are lead by for a former NYC prosecutor. Having a former prosecutor on your side gives you the unique advantage of viewing your case form the defense attorney's side as well as the prosecutor's side.
Call us today at 800-893-9645 for your consultation.
For more information, please take a look at the following links:
Traffic Ticket FAQs
Tips on Avoiding a Speeding Ticket
Top Reasons to Hire an Attorney
Email Us
Court Location