Lawyer's Traffic Ticket Guide to Guilderland Justice Court

How to Fight a Speeding Ticket in Guilderland Town
The Town of Guilderland covers nearly 58 square miles and has a population of 35,303, according to the 2010 U.S. Census. The town, named for a province in the Netherlands, lies west of the City of Albany, the capital of New York. The town also includes a total of eight (8) ZIP codes for the cities, towns and villages within the area. Interstates 87 and 90 pass through Guilderland, and U.S. Route 20 also crosses town.
Due to these highways, there are many open stretches of road where drivers easily lose track of the speeding limit. Further complicating things is the changing topography and the constantly changing speed limits. In such cases, many drivers find themselves facing a hefty speeding ticket.
A speeding ticket can cost a driver hundreds of dollars on fines, penalties and insurance increases. Not to mention points on their license and time wasted going to and from court.
Luckily, there is an easier way out. Hiring our firm, we will represent you in court, so you do not have to travel. We also have consistently saved hundreds of clients money, points and insurance increases. Call us today at 800-893-9645.
Court Tips and Tidbits
Mailing Address:
Guilderland Justice Court
PO Box 339
5209 Western Turnpike
Guilderland, NY 12084
The Guilderland Justice Court is open every Monday through Friday from 9:00 a.m. to 4:30 p.m. Traffic court is held every Monday at 5:30 p.m. except for holidays.
Dress Code: Although there is no official dress code enforced, we highly recommend all litigants to dress neatly and present themselves in a respectful manner. Many judges frown upon those who are dressed in shorts, or other such items.
Tip: It is always a good policy to arrive on time, and prepared. Having the court notice is advisable; it will help the court ascertain the most important information about your case quickly. Please note, arriving late to your court appearance can result in your case being called prior to your arrival, it is advised that you arrive a bit earlier than your scheduled time.
Burden of Proof: Unlike traffic matters heard in the Traffic Violations Bureau of NYC and other parts of the State, tickets in Town and Village Courts must meet the standard of proof beyond a reasonable doubt. Many legal scholars have debated exactly what is meant by proof beyond a reasonable doubt. However, everyone agrees that it is the highest standard of proof in the US judicial system.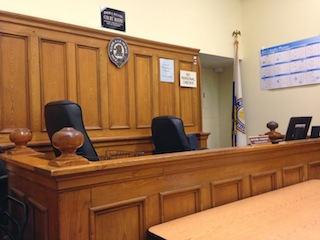 FAQs
There is a court date on the front of my ticket and the back of my ticket says I have 48 hours to respond. Which one do I follow?
Technically, you have 48 hours from the time your ticket is issued to enter a plea of not guilty by mail.
Can't every speeding ticket be dismissed or resolved with zero points?
Every case is unique. Every court is unique. It is difficult to make a blanket statement with regard the ultimate resolution of a legal matter.
How many points are allowed until a license is suspended?
There are many reasons why a driver may have their privilege to drive suspended. With respect to points, a driver will suspended upon receiving 11 or more points within an 18 month period.
About Our Firm
Our lawyers excel at getting New York traffic tickets reduced. We have over 30 years of legal experience and have gained a reputation as being superb lawyers. Our team of traffic lawyers is lead by Joseph P. Villanueva. He is a former prosecutor. Having a former prosecutor on your side can help in analyzing critical issues in your case. This can make the difference in you keep your license or having your license suspended or revoked.
If you are in need of an attorney to fight your traffic case, give us a call and ask how we can help. Our lawyer can be reached at 800-893-9645.
For further information, check out the following links:
Traffic Ticket FAQs
Tips on Avoiding a Speeding Ticket
Top Reasons to Hire an Attorney
Email Us
Court Location