Nassau County Speeding Ticket Defense

Have a Former New York City Prosecutor Fight Your Ticket! Call us at 800-893-9645.
Hidden Costs of a Speeding Ticket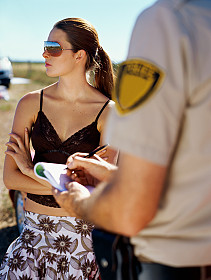 Most driver's do not realize the hidden costs behind a simple speeding ticket. Here is a brief overview to help you make an educated decision in pleading guilty or not guilty.

In New York, if you are convicted of 6 or more points in an 18 month period, you will be given a minimum $300.00 fine called a "driver's assessment." This fine is non negotiable. If you fail to pay the fine, your license will be suspended.

If you go to court and attempt to fight the ticket on your own, many courts have a two to three hour wait period until your case is called. You could be losing half a day of work.

In addition, you could be facing hundreds of dollars in insurance increases. If you are convicted of a major offense, your insurance company has the right to raise your rates for years until those points come off your insurance record.

NY Speeding Ticket Point Chart at a Glance

| | |
| --- | --- |
| Speeding | Points |
| 01 to 10 mph over the limit | 3 |
| 11 to 20 | 4 |
| 21 to 30 | 6 |
| 31 to 40 | 8 |
| More than 40 | 11 |
About Our Firm:
At Joseph P. Villanueva, Attorneys At Law we excel at getting tickets dismissed or reduced. Our team of traffic and criminal defense lawyers is lead by former prosecutor Joseph P. Villanueva. As a former prosecutor, he can help in analyzing critical issues in your case and work to give you the best defense possible. He was honored by Arrive Magazine as one of the Top 10 Lawyers in the Northeast. Having our firm represent you can make the difference in keeping your license or having your license suspended or revoked. Call us now at
800-893-9645
.
Send Us an Email
Q. What is the "move over law?"
A. The Ambrose-Searles law also known as New York's "move over" law was signed by Governor Patterson in the summer of 2010 and came into effect on January 1, 2011.
The move over law requires drivers to slow down and "move over" for stopped emergency vehicles. A conviction to this law can carry either 2 point or 3 point penalty depending on the particular section you are charged. In addition, you can be facing fines and surcharges. This law was enacted to help protect law enforcement from being injured while performing their duties on the road.
Q. I was given a speeding ticket in Greenburgh on I-87. I mistakenly sent my not guilty plea to White Plains Court. Is that ok?
A. You need to retain this firm to follow up and ensure your plea was handled properly. White Plains City Court has no obligation to send your paper work to Greenburgh Justice Court. If you delay, your license could be suspended.
If you would like to fight your ticket, call our lawyers at
800-893-9645
.
Our firm offers experienced and effective counsel on the following issues:
Our firm an be frequently found representing clients throughout New York State. Some courts that we often represent clients include Greenburgh Justice Court, South Nyack Village Court, Newburgh Town Court, Tuckahoe Village Court, Yonkers City Court, Milan Town Court, and Stanford Town Court.
If you are charged with a speeding ticket or traffic ticket, call our team of lawyers at 800-893-9645.