Overweight Truck Ticket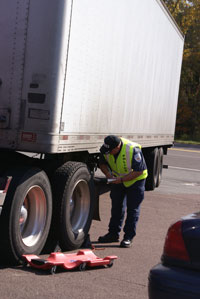 What should I do if I have been given an overweight truck ticket?
You should read the ticket thoroughly, follow the instructions, enter a plea of not guilty, and call our New York traffic ticket attorneys for a free consultation. Call us now at
(800) 893-9645
. Our ticket attorneys have handled matters throughout New York State.
The worst thing you can do is to ignore the ticket. Your failure to answer the ticket in a timely manner could result in your privilege to drive being suspended or revoked. You could be found guilty in your absence.
Can your firm help me fight my overweight truck violation?
Our team of lawyers have more than 20 years of legal experience. Hire our team of lawyers to fight your trucking violation/ticket or traffic matter and have a former prosecutor on your side. Our lawyers have over twenty-five years of experience and have been rated as "Superb."
What kind of fines am I facing?
New York State legislature has enacted stiff monetary penalties (there may be other sanctions available) to the owners of trucks carrying overweight loads. Many municipalities frown upon the heavier payloads causing greater wear and tear to streets, bridges, and infrastructure. Call us now at
(800) 893-9645
and ask for a free consultation.
Log Book Violation
CDL Ticket Defense
CDL Speeding
Testimonials
Send us an email