Traffic and Speeding Tickets Page 4

"Thank you Joe, again for the amazing results"
Joe Villanueva answered my desperate call for help. He didn't promise NO POINTS but he miracly succeeded by eliminating all the points on my drivers license. The charge was speeding 79 on 55 ( 21 miles over the legal limit) 6 Points and Fine.
Thank you Joe, again for the amazing results.
Vlad Dumitrescu
---
When my teenage son was cited for excessive speeding in one of the most pro prosecution villages in Westchester county, I knew I needed to seek the best in class representation available for him. He's a good kid, no record of any kind and was rushing not to be late to his first job when he got the ticket. I researched a number of local firms and spoke to many friends who had connections in the local legal community. All pointed to Joe Villanueva.
I spoke to him at length. He was highly knowledgeable, but clear about expectations. He was confident he could get a reduction from the maximum penalties, but equally confident that this summons would not just go away and become a parking ticket. I retained him because of his honesty and quite frankly felt that whatever the result, it would be the best that could be achieved given the circumstances.
Fortunately, the village made several procedural errors along the way and Joe being vigilant was able to cite them and have the entire case dismissed. It was his vigilance and knowledge that produced the result. I whole heartedly recommend him and his firm should you find yourself in a similar situation. Whatever the result you will get with Joe, it will be the best possible.
Bob P.
---
One of the best decisions I have made in my life
Dear Joe,
From the second that I received my speeding ticket I could not stop thinking about it because it was a ticket for doing 80mph in a 40mph zone. I thought that my license was going to be suspended/revoked. As soon as I got home I did a Google search and I found Mr. Villanueva's website. After that I spoke to another attorney and he did not seem so enthusiastic and certain as Joseph did. Finally, I decided to go with Mr. Villanueva and this was one of the best decisions I have made in my life. From the start he was extremely understanding and helpful. A little while after our conversation he had emailed me some forms and I sent them back. At this point it was all in his hands, I did not even have to show up in court! As the days approached before my court date I was anxious and wondering what the outcome will be. Mr. Villanueva called me right after court and told me that from 8 points on my license he reduced it to a parking violation with a small fine, I was amazed! Prior to this resolution I was facing 8 points, significant fines, and hefty insurance increases. Mr. Villanueva was sharp and pointed out the errors of the prosecution; the judge did not want to go to trial because they knew that they would lose the case. I highly recommend Mr. Villanueva's law firm to anyone who is in need of legal representation.
Ari, Westchester
---
My Lawyer . . . Recommended Joseph Villanueva
"After receiving a ticket for making a disallowed U-turn, I contacted my lawyer for advice as to who might handle my case. He recommended Joseph Villanueva. After speaking with Joseph, I decided to move forward and let him handle my case. He was extremely professional and responded to all my inquiries in a timely manner. He delivered on the outcome of my case just as he had predicted. I would recommend his services to any one in a similar situation."
Tim K., Westchester
---
QUALIFIED is an understatement
I searched the web seeking for a lawyer to represent my son in a traffic citation. After speaking to other law firms, I knew that if someone was going to be dedicated, diligent, a qualified professional who was going to utilize his expertise, it would be Joe. After speaking to him, he did not guarantee the outcome of 0 points on a violation which was facing 6 points. However, he worked towards making it happen. This is a perfect example of taking action. Final outcome was 0 points and a fine. What a VICTORY!!! Thank you, it's good to know that there are lawyers like you who represent those who couldn't do it on their own. I will definitely recommend you & your firm to friends and family.
Sincerely,
LR & JR
---
"Excellent Service"
Joseph Villanueva has been very professional, reliable, and helpful when it has come to resolving a couple of traffic infractions for me. I would refer him to anyone in the future, and have done so already.
Jason S.
---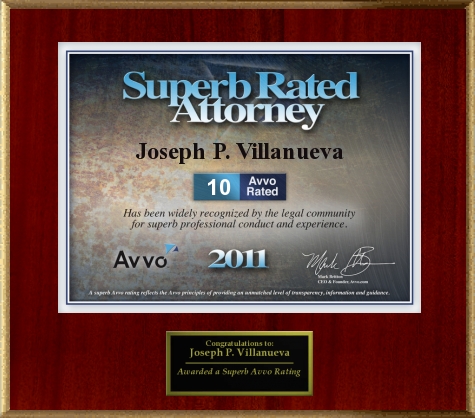 "I am a corporate lawyer and know how to distinguish good from bad legal service. Joe's firm delivers. From my first contact with his assistant to the resolution of my case (speeding ticket) by Joe himself, my matter was handled efficiently and effectively. I couldn't have been more pleased." Feel free to use my name, but do not use my firm's name. Thank you. Robert Seber
---
I was Speechless. . .
When I came to know [the result on my case], I was Speechless. . .
I am so glad that I choose Mr. Joseph Villanueva after few searches. After speak to him I gave him the responsibility to handle my three tickets from town of Harriman. Joe went to court behalf of me and made all three tickets dismissed.
It's an Excellent Services and professional. I would recommend Joseph Villanueva and his firm to anyone.
Thank you, Joe and you are the best.
MC
---
"I am very grateful to him for his efforts"
Joseph Villanueva helped me avoid many points on my license due to a hefty ticket. I am very grateful to him for his efforts and highly recommend him if you intend to plead not guilty for a traffic ticket. He was extremely professional and responded to all my inquiries quickly. In addition, he exceeded my expectations in regards to the outcome of my case.
Alex
New York
Testimonials Page 1
Testimonials Page 2
Main Ticket Page
Send Us an E-mail
---
Prior results do not guarantee a similar outcome.