Medicaid Fraud Law Firm: Recent News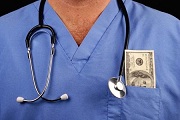 If you know of someone committing Medicaid fraud and would like to play a role in helping justice prevail, call the attorneys at Villanueva & Sancahala PLLC at 800-893-9645 and ask for a confidential consultation.
---
Syracuse Pharmacist Fined and Suspended
Syracuse, N.Y. – New York State has disciplined and fined Manlius for committing acts that constitute Medicaid fraud.The former supervising pharmacist at Kinney Drugs in Cazenovia was fined $2,500 by the state Department of Education and also imposed a one-month license suspension.
The department took swift action after the pharmacist pleaded guilty in Madison County Court to the felony of fourth-degree grand larceny. The pharmacist submitted papers seeking Medicaid for payment of more than $13,000 worth of medications that were not earned.
---
Medical Doctor Faces up to 125 Years in Jail
Mississippi – A Federal jury convicted Jackson physcian, Dr. Cassandra Faye Thomas, in one of the largest health care fraud cases in the state. The jury found that she created a scheme that netted her $6.9 million in fraudulent Medicaid and Medicare claims.The doctor faces up to 125 years in prison. United States Attorneys' Office stated that the scheme involved the use of unlicensed and unqualified personnel to give therapy to patients.
---
If you would like to learn more about reporting Medicaid fraud, call our attorneys now at 800-893-9645.