Stop the Negligent Maintenance of Elevators and Escalators

Everyday New Yorkers are injured while using elevators and escalators. These injuries often arise from mechanical failure and landlord's disregard to follow safety regulations. If you were injured while using an elevator or escalator in the Bronx, Queens, Brooklyn, Manhattan, Westchester, or Long Island, give our lawyers a call to learn whether or not you may be eligible to receive compensation for your injuries. Our lawyers can be reached at 800-893-9645.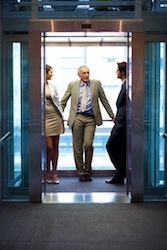 Time and time again, the failure to properly maintain these machines results in significant injuries ranging from scarring, back lumbar injuries, and knee injuries.
Some common errors causing these injuries stem from the sudden stopping, erratic speed, defective regulators, and mechanical door error.
Because of the risk of serious injury involved with elevators and escalators, most municipalities require building to maintain and post certificate of inspections. From time to time, building owners fail to comply with the law. At our law firm, we believe that building owners who fail to comply with the law should be held accountable for their actions. As such, we work diligently to resolve our client's personal injury matter.
It is imperative that you hire a law firm with the experience and knowledge necessary to litigate your case and see it to the end. Call our lawyers now at 800-893-9645 to learn how we can help you.