We Fight Tickets in Tonawanda

Fighting Your Ticket can Save You Money
Have you been stopped and issued a speeding ticket in the Town of Tonawanda? If so, you are not alone. Thousands of drivers per year are stopped and given expensive tickets per year. If you are looking to save money, then you've come to the right law firm. We can help. We have helped thousands of drivers fight their tickets and save time, money, and points on their license.
We Can Help! Our traffic ticket law firm has over 30 years of legal experience. We are led by a former New York City prosecutor with the unique skills to help you obtain the best possible outcome on your particular case. We have excelled at getting tickets either dismissed or reduced. Give us a call today and ask for your free confidential telephone consultation. We can be reached at 800-893-9645.
This chart will help first time speeders quickly ascertain how many points they are facing.
| | |
| --- | --- |
| Speeding | Points |
| 01 to 10 mph over the limit | 3 |
| 11 to 20 | 4 |
| 21 to 30 | 6 |
| 31 to 40 | 8 |
| More than 40 | 11 |
Our attorneys fight for our clients and attempt to resolve their case with the most favorable possible outcome. Below is a list of fines associated with some of the most widely issued tickets in the State. (Fines are subject to change without notice). Call our lawyers now at 800-893-9645.
| | |
| --- | --- |
| Offense | Fines |
| First-time speeding offense | $45 to $600 |
| One or more speeding tickets (within eighteen months) | Up to $1,575 |
| Traffic Infraction | $100 - $300 |
| Disobey a Traffic Signal (redlight) | $225 - $675 |
| Misdemeanor Convictions (no other penalty provided) | $200 - $1,225 |
| Uninspected Vehicles | $25 - $200 |
| Unregistered Vehicle or Trailer | $25 - $200 |
| Equipment Violations of Vehicle or Trailer | $0 - $100 |
| Surcharges | $ varies based on the charge and location |
| | |
| --- | --- |
| Assessment | Fine |
| Six points or more on record | $300 one time payment; or $100 each year for 3 years |
| Any additional points earned over six points | $25 for each point for 3 years |
| Refusing to take a breathalyzer test, conviction for alcohol related traffic offense or conviction for drug related traffic offense | $250 each year for 3 years |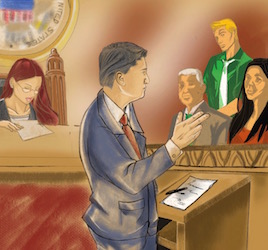 About the Town of Tonawanda
Tonawanda is a prime, somewhat remote township in the northwestern tip of Eerie County; geographically speaking, the city is bordered on the east by Amherst, on the west by Niagara River, on the north by the river and county of Niagara, and on the south by Buffalo. The Erie and Neuter Indians, the early inhabitants, appropriately named the town "Tonawanda" meaning "swift waters" in local dialect perhaps in admiration for Niagara potent currents.
Geography
As mentioned above, Tonawanda is surrounded by Amherst, Niagara River and Buffalo, hemming in an enormous track of about 12500 acres of lush green, fertile land. According to Holland Company's survey records, the town comprises township 12, range 8 and a teensy bit of a mile strip along Niagara River, of which lies in the State Reservation. The general topography is level. The soil is loam-clayey within the strip along the river and sandy-loam inland. Rightfully so, arable patches, particularly in the central and northwestern, are dedicated towards agriculture; green garden trucks generate bountiful produce for Buffalo market.
History
By 1600, the region on which the town sits had been toured by French missionaries; traders of assorted merchandise, military dignitaries, and British colonies soon followed suit. Funny enough, the then village of Tonawanda (including Buffalo) was razed down during the War of 1812.
It was not until April 16, 1836, that the Town of Towanda was founded, and has since flourished as a premier agricultural and business center. Among the pioneers include John Hershey, Alexander Logan, and John King, who settled in 1805 on the southeast tip of Tonawanda. Many others trooped to Tonawanda in a bid to benefit from the construction of Eerie Canal.
Of a considerable historical importance are the first town meeting held in spring 1837; the chiming of the first steam rail in 1836; and the earnest construction of the harbor in 1849.
Demography
The census of 2010 projected that Tonawanda (including the village of Kenmore) had 73567 people protracting a population density of 4252 people per square mile; further breakdown indicates that 47% and 53% were male and female respectively. The median age of the town stood at the staggering 45.7 years.
The racial composition of the population was: 93.1% White, 3.0% Black or African-American, 2.7% Hispanic or Latino, 0.4% American Indian, 1.3% Asian, 0.02% Pacific Islander, 0.6% from other races, and 1.6% from two or more races.
Of the 32,951 reported households, 43.1% were married couples; median household income was $48624, average unit house price was $151092, and median gross rent was $629.
We can Help
We have over 30 years of legal experience and have helped thousands of drivers fight speeding ticket and other moving violations. We have been recognized as Top Lawyers and the State. We have excelled at getting tickets either dismissed or reduced.
Speeding under VTL § 1180 (b)
Speeding under VTL § 1180 (d)
Cell Phone under VTL § 1225
Child Seatbelt under VTL § 1229
Failure to Move Over under VTL § 1144-A
Failure to Signal under VTL § 1163
Following Too Closely under VTL § 1129
Operating Without Insurance under VTL § 319
Red Light under VTL § 1111
Stop Sign Violation under VTL § 1172
Suspended License Operation under VTL § 511.1 (Misdemeanor)
Unsafe Lane Change under VTL § 1128