What to Expect in Orangeburg Traffic Court

Orangeburg Town Court is responsible for handling tickets from many law enforcement agencies. It is for this reason they have large traffic calendar on most days. Many motorist will receive a moving violation from the Palisades Interstate Parkway which coincidentally is only a short distance from the court.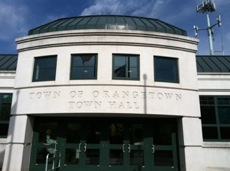 In general, if you plan on fighting a traffic ticket, there can be a significant delay in handling this matter. You may have to wait several weeks or months before you get a court date. Once you get a court date, you may wait several hours until your case is called.
If you retain our law firm for a non-misdemeanor traffic ticket, you can bypass this long and tedious wait. When you retain this firm and provide us with written authorization to appear on your behalf, you will not be required to appear in court. In other words, we cab appear on your behalf saving you valuable time.
Orangeburg aka Orangetown is located at 26 Orangeburg Road in Orangeburg New York. Traffic court is held on different days of the week. In large part, the calendaring of your case will depend on whether or not your ticket was issued by a local police officer or State Trooper.
How many points am I facing?
| | |
| --- | --- |
| Speeding | Points |
| 01 to 10 mph over the limit | 3 |
| 11 to 20 | 4 |
| 21 to 30 | 6 |
| 31 to 40 | 8 |
| More than 40 | 11 |
What are the fines?
Offense
Fines
First-time speeding offense
$45 to $600
One or more speeding tickets

(within eighteen months)

Up to $1,575
Traffic Infraction
$100-$300
Disobey a Traffic Signal

(red light)

$225-$675
Misdemeanor Convictions

(no other penalty provided)

$200-$1,225
Uninspected Vehicles
$25-$200
Unregistered Vehicle or Trailer
$25-$200
Equipment Violations of Vehicle or Trailer
$0-$100
Surcharges
$50 - $55
Can I go to jail for this?
Yes. Although it is rarely enforced, a simple speeding ticket can carry 15 or more days in jail for a violator.
About Our Firm
: Our ticket lawyers excel at getting tickets dismissed or reduced. We have more than 20 years of legal experience and have gained a reputation among our peers as being superb lawyers. Our team of traffic defense lawyers is lead by Joseph P. Villanueva. He is a former prosecutor. Having a
former prosecutor
on your side can help in analyzing critical issues in your case. Call us now at
914-723-7900
.
Back to main page

Send us an email
Testimonials
FAQs
Traffic Ticket Fines