Ten Commandments of Fighting a Speeding Ticket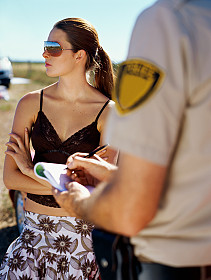 Put Yourself in a Position of Success
Our traffic ticket defense firm has represented hundreds of drivers throughout New York State. In our experience, we have noticed some commonalities that have helped our clients fight their traffic tickets. While there are many things that a driver can do to mitigate their traffic ticket nightmare, we have come up with ten best practices that every driver should follow to help ensure the best possible outcome for their speeding ticket. We dubbed the practices the 10 Commandments of Speeding Tickets. Following these 10 Commandments could save you a lot of time, money, and aggravation.
Thou shall not speed. The best way to win a ticket case is not to get one in the first place. A driver should always keep a watchful eye over their speedometer. Simply staying under the posted speed limit saves lives and saves the hassle in fighting an expensive speeding ticket.
Thou shall retain counsel. Less than 1% of all persons issued a speeding ticket will hire an attorney to help fight it. Our experienced traffic ticket defense attorneys have the skills necessary to limit your exposure to costs and adverse consequences such as a license suspension and excessive points. We have excelled at getting traffic tickets either dismissed or reduced.
Thou shall be respectful to the officer. When a police officer pulls over a driver for speeding, a disrespectful driver can very easily make a bad situation worse. In so doing, instead of being issued one summons, the irate and self-righteous driver is now facing 2 or more summonses. This will vastly increase the driver's exposure to points, fines, and a license suspension.
Thou shall not make any admissions at a traffic stop. Many drivers voluntarily apologize for speeding. "I'm sorry; I know I was speeding." This statement is an admission of wrongdoing and can be used against the driver at trial. Giving such a statement buttresses the prosecution's case and will help them meet their burden of proof.
Thou shall appear up in court. One of the worst things a driver can do is miss their court date. When a driver fails to appear in court there are many adverse consequences that may occur. This can include but not be limited to a trial can be held in their absence and their license being suspended. Driving with a suspended license is a crime. Drivers can be charged with either a felony or misdemeanor.
Thou shall pay the fine. Failing to pay a fine can have the same result of missing a court appearance. If a driver fails to pay their fine, the court can suspend their privilege to drive. The process of lifting the suspension can be daunting for many drivers.
Thou shall read their ticket thoroughly. A speeding ticket will contain some very useful information for the driver. It will have the ticket number which is used to track down the charge in the court's computer system. It'll have a reply by date. Failure to enter a plea by the reply by date could result in a driver's license being suspended. It will contain the name and address of the court. Any questions regarding the ticket can be addressed to the court.
Thou shall respect the court. When a driver appears in court, they must be respectful to the Judge and the judicial process. For some, this can include arriving to court on time and dressing appropriately. It is important to remain silent while sitting in the audience and to address the Judge as Your Honor once your case is called.
Thou shall be prepared for court. When a driver appears in court, they should be thoroughly familiar with their case. Having any court notices, letters, and exhibits will be helpful in court.
Thou shall demand a supporting deposition. When a driver is issued a ticket, they are entitled to a supporting deposition. If the prosecution fails to provide a supporting deposition, there are grounds to have the ticket dismissed.
While following these commandments may not exonerate you from a speeding ticket, it can go a long way to helping you reach an amicable resolution.
If you have a traffic ticket in NY, give our lawyers a call today to learn how we can help. We can be reached at 800-893-9645.
Finding the Best Ticket Lawyer