Understanding VTL 1128 (a) - Unsafe Lane Change

Unsafe Lane Change
The other day I represented a client in New York traffic court that was charged with speeding under VTL 1180(b) and an unsafe lane change under VTL 1128(a).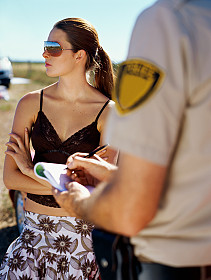 The driver was stopped by a NYS Trooper along the Taconic State Parkway and was alleged to have exceeded the speed limit by 21 mph and changed his lanes without doing so in a safe manner.
At first glace, it may appear that an unsafe lane change is a subjective charge left to the devices of the police officer. However, this is not true. VTL 1128-a and the related portions of the VTL defines what is considered to be an unsafe lane change.
S 1128. Driving on roadways laned for traffic. Whenever any roadway has been divided into two or more clearly marked lanes for traffic the following rules in addition to all others consistent herewith shall apply:

(a) A vehicle shall be driven as nearly as practicable entirely within a single lane and shall not be moved from such lane until the driver has first ascertained that such movement can be made with safety.

How Many Points are Assessed for a Conviction for an Unsafe Lane Change Under VTL 1128-a?
A conviction to an unsafe lance change will result in a 3-point violation being assessed against a driver.
How Much is the Fine for an Unsafe Lane Change?
New York law provides that a driver can be given a $100.00 fine plus a surcharge. The presiding judge sets the fine. Fines under the Vehicle Traffic Law can be increased by the NY legislature.
How to Avoid Getting an Unsafe Lane Ticket?
In general, a charge under VTL 1128-a is seldom issued by itself. It is usually issued as part of a string of tickets. In our experience, we have noticed that this ticket is usually bundled with a speed ticket and after an altercation with an officer. Best practices would dictate that a driver follows all rules of the road and to avoid escalating a conflict with the police. Failure to do so could result in multiple tickets being issued and the driver facing thousands of dollars in fines and a potential license suspension.
About Our Firm
We maintain a statewide speeding ticket defense practice. We strive to obtain the best possible outcome for every one of our clients. We have consistently worked to reduce our client's exposure to fines, points, and insurance increases. If you have a ticket matter, give our ticket attorneys a call today at 800-893-9645.
Speeding Tickets at a Glance
Speeding tickets can be costly. Here is a small glimpse into the amount of points you may be facing via our New York speeding ticket point chart.
| | |
| --- | --- |
| Speeding | Points |
| 01 to 10 mph over the limit | 3 |
| 11 to 20 | 4 |
| 21 to 30 | 6 |
| 31 to 40 | 8 |
| More than 40 | 11 |
Call our lawyers now at 800-893-9645 for a consultation.
Send Us an Email
How do I Retain You?
FAQs
Finding the Best Ticket Lawyer
Top Reasons to Hire a Traffic Lawyer